Sir David Attenborough: UK's Greatest Living Icon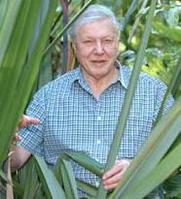 Legendary naturalist and broadcaster Sir David Attenborough has been named Britain's Greatest Living Icon by the audience of BBC Two's The Culture Show. Sir David received more than a third of the 200,000 votes cast.
He was on the programme to hear the results, announced by Lauren Laverne on Saturday 16 December at 7.50pm.
The Living Icons campaign has been truly democratic since its launch on 14 October when the public were asked to nominate individuals who they felt had made the greatest impact on British cultural life.
More than 600 names were put forward as living icons before a shortlist of the ten most popular names was drawn up.
Pop goliaths Morrissey and Sir Paul McCartney were voted second and third respectively.
Sir David said he was "amazed" to have won.
As to the reason for the overwhelming number of votes he received, he said: "I hope that the kind of programmes I produce have something to do with the understanding of the natural world.
"And certainly an understanding of the natural world has never been more important and never more remote in a curious way because over half the population of the world live in cities – away from the natural world – and yet, they're having a greater effect on the natural world than they have ever had."
Richard Boll, the winner of this year's Photographic Portrait Prize at the National Portrait Gallery, has been commissioned to create a new portrait of Sir David.
This will be unveiled in The Culture Show's new series next year, and displayed at the National Portrait Gallery, London. Pictures of all the three icons, specially chosen from the National Portrait Gallery's Photography Collection, are on display in the National Portrait Gallery London and the National Gallery of Scotland until the end of December.
The top ten icons are:
1 Sir David Attenborough
2 Morrissey
3 Sir Paul McCartney
4 David Bowie
5 Sir Michael Caine
6 Stephen Fry
7 Kate Bush
8 Alan Bennett
9 Kate Moss
10 Dame Vivienne Westwood