Bryan Ferry Pays Homage To Bob Dylan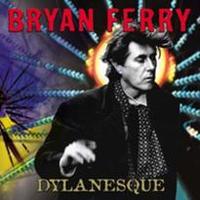 There is a racing, joyous intensity to Bryan Ferry's interpretations of the songs of Bob Dylan. Just as his legendary version of 'A Hard Rain's A-Gonna Fall', recorded back in 1973, exchanged apocalyptic vision for exuberant swagger, so at the heart of these new recordings lies Ferry's brilliance in both paying homage to the original track, and reinventing it as entirely and iconically his own. Back then, in 1973, he had an idea: "I just thought it would be great to make a whole album of Dylan songs. And at the end of last year, finally, it happened."
Between the idea and its execution, Ferry has been busy: as well as being the frontman of the elegantly modern art-rock, and bitter-sweet pop-soul of Roxy Music, he's also spent the last thirty-plus years establishing himself as a great songwriter (Love Is The Drug, Mother of Pearl, More Than This, Slave To Love) and as a distinctively modern singer who can transform another writer's song into a piece of compelling, unpredictable drama - filled with emotional complexity and structured with flawless timing.
In covering songs written and recorded by other artists - be it 'The Price of Love', 'As Time Goes By' or 'I Put a Spell on You' - Ferry creates a vehicle for his own inimitable style -- unique works created from the endlessly alluring source material of popular culture. But it was with that first, astonishing cover of Hard Rain that he - along with Jimi Hendrix and The Byrds - gained entry into the sparse club of artists who've covered Dylan and improved on the original.
And so now an album of Dylan songs - Dylanesque - that's closer in spirit to These Foolish Things than the mid-career epics of Avalon or Boys & Girls. Fans of his most recent work, 1999's Grammy nominated album of 30s standards, As Time Goes By, 2002's edgy and impassioned Frantic or the two tracks he recorded for Hal Wilner's recent Rogues' Gallery project will have recognised a new voice emerging; vulnerable, inspired and somewhat devil-may-care. With this new album, he was happy to saunter in and cut it in a week. "We just knocked it out this time!" laughs Ferry, almost surprised by his own efficiency. "I wanted to get away from that locked-in-the-studio feeling. We were doing live vocals, harmonica, live everything…."
With his touring band behind him, Ferry recorded around 20 Dylan songs, of which 11 appear here. Collectively, these interpretations comprise their own emotional world - a fresh and vivid place, cut at times by deep shadows and open to the weather of its mood. Ferry uses the medium of Dylan's songs - their lyrical power, their tenderness, insight or portentous nuance - in order to make a musical statement which is in part a portrait of Dylan, and as importantly a self-portrait. As a connoisseur of music by other artists, with a specific love of the blues, Ferry reveals a deeply felt engagement with Dylan's writing - with the stories and ruminations of a town and country troubador.
"As far as the words are concerned it's a bit like an actor tackling Shakespeare," says Ferry. "I like finding the melodies that Dylan's hidden away in there. I sat down with [pianist] Colin Good and worked out keys, tempo, the feel of the thing. No demos. We just did it. Most of the recording was done inside a week. Then we did a couple of days at 4th Street Recording, a funky old studio in Santa Monica where the Beach Boys used to record."
Much of Dylan's writing is densely poetic, with the very shape of the words honed to the rough, hardened, almost dismissive quality of his particular intonation. In these new versions, however, Ferry has created a vocal and musical atmosphere in which he inscribes his own artistic signature: the meticulous balancing of plangent romanticism or soulful introspection, against robust, highly energized and assuredly modern musicianship. Added to this is that unique quality which Ferry alone appears to possess as a singer: a shade of feeling in his voice which is at once enticing and world weary, steeped in emotional presence yet luxuriating in cool distance, enabling the words of a song to open the doors to a more exciting world - a place of intensified feelings.
With this in mind, 'Dylanesque' hits the ground running, opening with 'Just Like Tom Thumb's Blues' - originally recorded by Dylan in 1965 - and followed by 'Simple Twist of Fate', from the 1975 album 'Blood On The Tracks'. The former introduces the musical mood which Ferry builds up across the eleven carefully selected songs on this album. In a style at once sparse, keen and hard edged, the musicians tease their way into the song, gathering a muscular momentum which perfectly suits Dylan's lyric of beatnik lament, shot through with poetic irony and hard bitten cynicism.
Perhaps the most surprising track on the album is Ferry's take on Dylan's 1964 protest anthem, The Times They Are A Changin'. "The way I do it doesn't mean it isn't a protest song… this song can be whatever you want it to be. I grew up with the jazz idea that you could do a song in many different ways…" With All I Really Want To Do Ferry went for "a kind of olde world feel, almost like a medieval ballad. You're covering the Byrds as well because they put an exceptionally strong stamp on it so it's good to go for a different feel."
Part of Ferry's genius in interpreting songs by other artists lies in the way he can intensify the mood of a song by virtually reversing its original temper. This is the case on 'Simple Twist of Fate', recorded by Dylan as a drifter's hymn to the play of fortune, and recast here by Ferry as vivacious, lightly handled and irresistably sure footed. It is a version which brings to life the uncomplicated energy of the old American pick-up bands, creating a solid chassis of rhythm to carry the vivid imagery and resigned fatalism of the lyric. This version plays itself out to a bravura performance by Ferry on harmonica, recalling the flair with which he has used that instrument since the early days of recording 'Let's Stick Together'.
Like all great cover versions, the Dylan Album delights in challenging preconceptions. Dylan's country-rough love song If Not For You is here transformed into a hovering heat-haze of string-quartet and "sonic enhancements" from Brian Eno. The bitter screed of Positively 4th Street is reworked by Ferry into something broken and vulnerable, enhanced by an exquisite string-arrangement from The Dirty Three's Warren Ellis, performed by classical cellist and Ferry alumnus Anthony Pleeth. With All I Really Want To Do Ferry went for "a kind of olde world feel, almost like a medieval ballad. You're covering the Byrds as well because they put an exceptionally strong stamp on it so it's good to go for a different feel."
The album closes with Ferry taking on two of Dylan's most famous tracks… "Knocking On Heaven's Door was a risky one," he admits, "because it's been covered so many times by different people but then so has Smoke Gets In Your Eyes. With All Along The Watchtower there was a nod to Hendrix as well as Dylan. The backing track was done about eight years ago, just an acoustic guitar played by Robin Trower, bass, drums and me. I kept looking at it and thinking, one day I've got to finish that..."
There has always been an element of Ferry's musical style - a particular colour on his creative palette, so to speak - which brings to mind the atmosphere of piano bars and dives. To this end, Ferry's interpretation of the peerlessly scathing 'Positively 4th Street' - originally recorded by Dylan just four days after he enraged folk music loyalists by playing an electric guitar at the 1965 Newport Folk Festival - takes its place as a masterpiece of mood and emotional control. With consummate elegance, Ferry converts Dylan's vitriolic address to a musical community into a love song of towering force - softening the original in such a way that it sharpens the bitterness of the lyric.
"I get the feeling people expect something fairly refined from me," concludes Ferry, "My voice has gotten deeper and the album's got an element of roughness to it and, I hope, a kind of haunting quality. The singer in me is overjoyed to be singing these songs."
Ferry has never met Bob Dylan.
"What would I say if I did meet him? 'I hope you don't mind'."
Bryan Ferry's new album – Dylanesque – is released on March 5th.