Eva Longoria becomes face of Magnum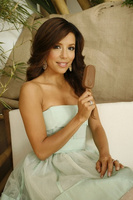 Eva Longoria, the new face of indulgent ice cream - Magnum, arrived at the Magnum Manor in Cannes this week. Eva and her entourage are there to launch a new range of Magnum ice creams. The glamorous Hollywood star known for her role as 'Gabrielle' on the hit series 'Desperate Housewives' will be encouraging the nation to enjoy life's little indulgences.
Eva Longoria says "Life is to be enjoyed and I believe that a little indulgence goes a long way." Newlywed Eva reveals that aside from ice cream her biggest indulgence right now is her husband, basketball player Tony Parker whom she married last year.
Eva will be tempting people to try two new varieties this year Magnum Mini –your favourite Magnum ice cream in a perfect mini size and Mayan Mystica which Eva - being of South American descent - loves, since it is inspired by the ancient Mayans who are believed to have created the first chocolate. The new flavour within the Magnum range is truly heavenly to taste combining chocolate ice cream that is coated with Magnum milk chocolate and blended with the warm notes of cinnamon, nutmeg and honey flavours.
On working with the nation's favourite ice cream brand Eva says "I'm happy to represent Magnum, as I believe in indulgence and sensuality, plus I have a huge passion for chocolate, so being part of this campaign is really fun for me".