Kylie's world tours opens in Paris this May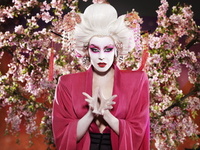 Playing to well over half a million people, the tour is her biggest ever and has cost over £10 million to stage! Kylie Minogue returns to her true home – the live stage - when she opens her greatest ever tour KylieX2008 in Paris on May 6th.

The tour will take Kylie through most of Europe and will see her play for the first time in Greece, Hungary, Romania, Bulgaria, Turkey, Luxembourg, Russia, Latvia and Spain. It will also be her first appearance in Northern Ireland since her first world tour in 1990. The tour ends in London on August 4, the last of a staggering seven nights at the capital's 02 Arena.

Ticket sales for the tour currently stand at over half a million and the show itself has cost a breathtaking £10 million to stage, which makes it the biggest and most expensive show that Kylie has produced to date, easily eclipsing groundbreaking tours like 2002's Fever in ambition and scale.

Kylie's wardrobe for this tour has been exclusively designed by master couturier Jean Paul Gaultier and the show will feature at least 7 costumes just for Kylie, with more visual elements being added daily!

KylieX2008 also sees Kylie perform with a brand new live band including, for the first time, a brass section and a total of 14 dancers, including 4 acrobats.

For the songs, Kylie has drawn on a breadth of material spread over her career but also promises some unheard songs and at least one surprising cover. Songs including those from "X", Kylie's current studio album, will be performed on a set dominated by huge video screens which will integrate with graphic staging and theatrical lighting to create a new concert experience for the audience. Always celebrated for her incredible breadth of vision on the live stage, this show sees Kylie move further ahead of her contemporaries.

Kylie's new single "In My Arms" is released on May 5, on the eve of the start of the tour.

Her album "X" is currently available.