Young Film Director Is Woman of the Future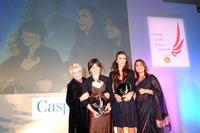 In a celebration of the UK's most promising female talent, seven outstanding young women have been dubbed 'Women of the Future' at an awards ceremony attended by Cherie Booth QC.
Addressing an audience of 600 people at the Hilton on Park Lane, Cherie Booth, Patron of the Awards, commented: "I'm fortunate to witness young women across the UK prospering in their chosen careers. But we still need more women to reach the very top. Which is why I am thrilled to be involved with the Women of the Future Awards. Young women need the inspiration that role models can bring. And these Awards, celebrating the amazing achievements of young women under the age of 35, are a fabulous platform to highlight our new generation of rising stars."
The Awards (womenofthefuture.co.uk), sponsored by Shell and hosted by Real Business magazine, were launched this year as a new initiative to recognise and promote role models under the age of 35. This year's winners, chosen by a judging panel chaired by Baroness Susan Greenfield (director of the Royal Institute), included Vicky Jewson, who won the Arts, Media & Culture Woman of the Future award for her exceptional work directing Lady Godiva.
"I wanted to make a film in the tradition of Britain's best romantic comedies," explains Vicky. "I admire the success of films like Bridget Jones and Notting Hill and think that people want more of them. At the same time, I liked the idea of tying my work into a classic British legend. Lady Godiva was a great tale to adapt. It's a tale that's never been told before, a kind of undiscovered Robin Hood, the story of one woman's triumph over adversity."
Vicky started to write Lady Godiva straight after her 'A' levels and became so passionate about the project that she decided to ditch plans for University to concentrate on film-making instead. She has secured financial backing of £1.4m from independent investors to make the film. Nicholas Parsons, Radio 4's legendary quizmaster, is Associate Producer and Adam Kempton, who made The Ninth Gate with Johnny Depp, is Producer.
Vicky's ten year plan is to set up her own, purpose built film studios. Meanwhile, as plans for the future continue to take shape, the first step is to get Lady Godiva wrapped and a distribution company secured.
"My aim is to have the film in cinemas next year," says Vicky. "It would be great to see a film full of the colour and light of summer on our screens in the Spring and to have that feed good factor."
Watch out for Lady Godiva later in 2007.