M&S To Be Theatrical 'Home' Of Menopause The Musical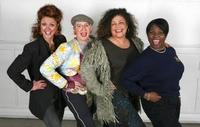 The international hit show, Menopause The Musical will be set in Marks & Spencer's flagship Marble Arch store for its London season at The Shaw Theatre. Menopause The Musical will open in London at The Shaw Theatre on Tuesday, 27 March 2007, starring Miquel Brown, Samantha Hughes, Su Pollard and Amanda Symonds.
There will be a Charity Gala to benefit The Women's Health Concern on April 12.
Menopause The Musical, an international smash hit from the United States to Canada, Australia, South Africa, Israel, Italy and New Zealand is coming to London on 27 March 2007, and will be in The Shaw Theatre on London's Euston Road. Seen by over 8.7 million women (and the men who love them) in 110 cities and 9 countries, the show is a phenomenon which has been entertaining and inspiring women since 2001.
It all begins with four women: "Power Woman" (Miquel Brown), "Soap Star" (Samantha Hughes), "Rutland Housewife" (Su Pollard) and "Earth Mother" (Amanda Symonds) at the Marks & Spencer Marble Arch lingerie sale with nothing in common but a black lace bra and hot flushes, night sweats, memory loss, chocolate binges, not enough sex, too much sex, and day-to-day challenges with aging parents, aging children and aging partners!
The women sing and dance their way through the different departments. The show's set recreates the new M&S look and the MTM cast will be dressed in the store's latest collections.
"We are delighted to be associated with Marks & Spencer," said the show's creator and producer, Jeanie Linders. "Generations of women have shopped at M&S and I am thrilled that our show will be set in a store and linked with an organisation that is so close to British women's hearts. I cannot think of a more appropriate location anywhere in the world."
A joyful parody of 25 re-lyricised classic Baby Boomer hits, the 90 minute show features chart-toppers including "I Heard It Through The Grapevine You No Longer See 39" and the Motown favourite, "My Thighs". Written by American Jeanie Linders, it is a hilarious and touching celebration of life after 40, 50 and beyond.
Menopause The Musical will be hosting the Women's Health Concern Charity Gala Performance on Thursday, 12 April 2007. For more information on how you can see this international sensation and join the fun, go to the website Menopausethemusical.com.