Chocolate Week Is So Divine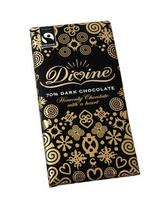 Divine Chocolate, the leading Fairtrade chocolate brand, is one of the sponsors of this year's Chocolate Week (15th-21st October 2007), the annual national chocolate celebration launched in collaboration with the Academy of Chocolate four years ago. Some of the UK's top chocolatiers will be taking part – offering tantalising tasters of a range of excellent chocolates.
Divine will be collaborating with restaurants, hotels and many other venues to create and offer Divine experiences all over the country, as well as announcing some exciting new products. Waitrose is also co-sponsoring the week and highlighting a selection of chocolate in-store.
For more details of the programme as it develops visit Chocolate-week.co.uk, and for updates on Divine's events log on to Divinechocolate.com.
Divine Chocolate, the company co-owned by the farmers of the Kuapa Kokoo cooperative in Ghana, has been taking part in Chocolate Week since it was established.
"It is always great to have this excuse (as if we needed one) to offer a week of indulgence and the opportunity to collaborate with a wide range of partners all enthused about doing something Divine," says Head of Communications at Divine, Charlotte Borger. "Our aim is to put together an eclectic but totally accessible programme of Divine happenings all over the country, giving as many people as possible the chance to sample great chocolate and hear the Divine story".
This year partners include the Pudding Club in Chipping Camden, Urban Angel restaurant in Edinburgh, and pioneering Acorn House restaurant in Kings Cross, London who will all be adding something Divine to their menus for the week.
London's premier bakery Konditor & Cook will be making their unique Divine Magic Cakes, eco-fashionistas Junky Styling will be sampling Divine, and Divine will also be hosting tastings at the new Whole Foods Market in Kensington. As an extension of Chocolate Week, Divine will also be joining other participating chocolatiers at the Spirit of Christmas show (7-11 November). Many other chocolatey promotions are in the pipeline and a full programme of Divine events will be up on the website soon.
Other chocolatiers and chocolate stores taking part in Chocolate Week include Rococco, Paul A Young, William Curley and Melt.