London's first Scandinavian Deli opens in West End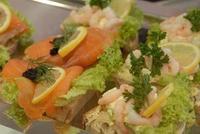 Scandinavian Kitchen, London's first Scandinavian deli and grocery store, has opened its doors on Great Titchfield Street, just north of Oxford Circus. Promising to bring good food with love from Scandinavia, it combines a stylish and relaxing environment with a unique lunch offering and great coffee.
Its lunchtime smorgasbord of open sandwiches served on either organic rye or sourdough bread, provide West End workers and residents with a healthier alternative to traditional sandwiches. The menu is based on the Danish smorrebrod (open sandwich) and draws on the Scandinavian tradition of uncomplicated food made with top quality ingredients, ensuring it is full of flavour.
Scandinavian Kitchen favourites include rare roast beef with Danish remoulade, horseradish whip and crispy onions served on a light organic rye bread and the Swedish smoked salmon on organic sourdough bread. Lunch is served from 12 noon onwards and a plate or take away selection with three scandwiches is available for £4.50. Salads, platters and Scandinavian hotdogs arguably one of the best ones around are also on offer.
The Kitchen's grocery section also stocks over 500 products from all over Scandinavia including a large selection of pickled herring, speciality cheeses and crisp bread as well as chocolate and that northern European speciality, salty liquorice.
Behind Scandinavian Kitchen are two food loving Scandinavians, Jonas Aurell, a Swede, and a Dane, Bronte Blomhoj. Jonas came to London six years ago and has spent time working for British institutions such as the BBC and Barclays while Bronte has spent the last five years as the Head of people and environment for innocent drinks.
"Spending time in innocent's entrepreneurial environment has given me a good insight into what is needed to set up a successful business - on your own terms. The last nine months have been somewhat hectic. I've grown a nice belly, helped innocent branch out in continental Europe while helping Jonas developing the offering and strategy behind Scandinavian Kitchen" says Bronte.
"The idea behind Scandinavian Kitchen is to provide a meeting point for Scandinavians, Scandophiles and other lovers of good food in central London" says Jonas Aurell.
"We want to show that not everything from Scandinavia is flat packed - our meatballs are round for starters - and that Scandinavian food is as accessible as its design."
Bronte and Jonas are more than business partners and are currently nursing two nine week old Scandinavian babies, the shop and their little daughter, Astrid, born 21 hours after the opening of the shop. "It's been tough, but if nothing else, we could always take comfort in the fact that we had a rather large supply of salty liquorice to comfort us when thing got a bit hectic" said Bronte with Astrid nodding her head fervently in her pram in agreement.
Scandinavian Kitchen, 61 Great Titchfield Street, London, W1W 7PP.
Opening hours: Monday to Friday 8.00 - 19.00, Saturday 8.00 - 18.00 and Sunday 10.00 - 16.00.
See also Scandikitchen.co.uk.