The big fight - Turkey vs Goose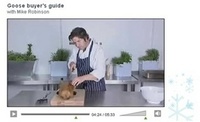 Forget Hatton vs Mayweather, the big fight this month is between the turkey and the goose. If you're caught in the middle then look no further than the BBC Food website's exclusive Christmas videos to help you decide which bird will win in your kitchen.
Watch the exclusive goose and turkey buyer's guide videos and make the informed choice.
Celebrity chef and fowl fiend Mike Robinson visits the farms, examines the consumer choices, and roasts and taste-tests the frozen and the fresh.
Be careful though - you may end up buying one of each!
Have a gander now at bbc.co.uk/food.