GAZ Group launches Volga Siber Production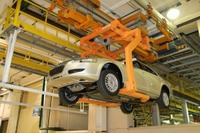 The GAZ Group has launched the serial production of its new car, the Volga Siber. The company's production facilities are capable of manufacturing up to 100,000 cars per annum. The new car will be available from September 1, 2008 in 12 Russian regions through the company's 68 dealers. All dealers meet the relevant international standards for sales and service.
Russian Federation Prime Minister Vladimir Putin visited the car plant on the eve of production and took the new car on a test drive.
"It takes off fast and they've increased the clearance. It will be fine for our roads," he said. After seeing the main 300-metre conveyor belt, which utilises a modern overhead assembly line, the Prime Minister highlighted the quality control system which has been introduced at all stages of the car's creation and production.
"Today we have launched a project which will open up a new phase in Russia's car manufacturing industry," said Sergey Zanozin, Chairman of the GAZ Group, speaking at the opening ceremony. "The GAZ Group has started to produce a new line of cars under the Volga brand on platforms from the world's leading manufacturers. The new production facility has the flexible capacity needed to bring new models into production at minimal cost and investment in the future."
The launch ceremony was attended by James C. Epolito, President & CEO, Michigan Economic Development Corporation (USA). The State of Michigan became the second homeland for Siber as a result of a close cooperation between GAZ Group and Chrysler LLC, as the two companies work closely on the production of the car as well as with automotive components manufacturers supplying parts from Michigan for the new car. Mr. Epolito passed on the official greetings from Jennifer M. Granholm, Governor of the State of Michigan. As Governor Granholm writes: "The Siber project was very exciting to learn about and I am interested in its progress following its introduction to Russia. I am confident that it will be very successful! The Michigan companies you are working with are some of the best in the world and will take great pride in contributing to your company's success."
"We look forward to a long-lasting relationship and strong partnership between the State of Michigan, GAZ Group and Chrysler, stated Mr Epolito. "I am the first American who drove Volga Siber today at test-drive, and I will be the first American who will buy the car and will drive it in USA. I liked it very much!"
The Siber model is based on a platform acquired from the American corporation Chrysler and was designed by the leading British studio UltraMotive, which took into account the latest trends in modern car design. The Siber is fully adapted to Russia's roads and harsh winter conditions. The Siber platform has a stiffer suspension and increased ground clearance compared with the original platform.
Production of a pilot series of the Volga Siber began in spring 2008. The test vehicles underwent trials at the GAZ Group's engineering centre and specialist car magazines, and were also put through their paces by corporate customers and employees. Engineers and specialists from the Canadian company Magna International played an active role in the installation and fine tuning of the assembly line, as well as in the training of GAZ Group employees.
Specifications of the Volga Siber
Basic equipment: 2-litre engine with 141hp, air conditioning, two airbags, ABS, anti-skid Traction Control System, halogen headlamps with delayed disconnection and adjustable levels of brightness, power steering, adjustable steering wheel, electric driver's seat adjustable in six directions, stereo system with six speakers and amplifier, heated and folding electric mirrors and a full spare tyre.
Main technical specifications: 4-cylinder in-line Chrysler engine (standard Euro 4). Displacement: 2 litre and 2.4 litre. Power: 141hp and 143hp; Torque: 188 @ 4,350 and 210 @ 4,200. Maximum speed: 200 kmph. Fuel tank capacity: 61 litres. Dimensions: clearance: 140 mm; length: 4,844 mm; width: 1.792 mm; height: 1,394 mm; volume of passenger compartment: 2,660 litres; volume of boot: 453 litres.
About GAZ Group
GAZ Group holds leading positions on the Russian market of commercial vehicles with a diversified product portfolio including a wide range of light commercial vehicles, trucks, buses, construction equipment, cars, power train and its components. It operates 18 large production facilities in Russia and the UK. GAZ Group consolidated sales in 2007 totalled over USD 5.9 billion. Its market capitalization is currently at USD 3.2 billion. GAZ Group is at the centre of consolidation of the civil automotive assets of its parent company "Russian Machines", a subsidiary of Basic Element investment fund.
About Basic Element
Basic Element is a diversified investment company established in 1997 with assets in Russia and abroad. Basic Element's main assets are concentrated in six sectors - Energy, Resources, Manufacturing, Financial Services, Construction and Aviation.
In 2007, Basic Element's consolidated revenues exceeded USD 26 billion. The market value of the company's assets is estimated at USD 45 billion.
Basic Element owns a 25% stake in the Austrian company Strabag, 9.99% of the German construction company Hochtief and 20% of the Canadian company Magna International Inc.
Basic Element employs 300,000 people and owns companies in Russia, the CIS countries, Africa, Australia, Asia, Europe and Latin America.