Property rental pool initiative - available at Mountain View development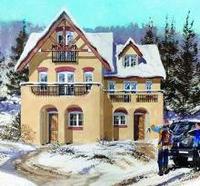 If you are looking to purchase a buy to let property in Bulgaria then rental returns are of high importance. Many agents and developers offer rental return guarantees over a fixed period of time from completion which can offer purchasers additional peace of mind (assuming of course that they have not paid over the odds for the property in the first place to accommodate these returns).
These legally bound guarantees ensure regular rental income for anywhere between the first 6 and 36 months after completion but what happens after that? The rental market is reliant upon two types of people, holiday makers and the local population (including any expatriate workers, students or business professionals). If you have for example purchased a property in the ski resort of Borovets where the majority of tourism is in the winter months then you must consider how to gain regular rental income during the quiet summer periods.
With this in mind, established developer Bulgarian Focus has launched a new organic approach to rental returns – the Rental Pool Initiative. In essence the rental pool is a way of benefiting from consistent yields whether or not your specific property is let. This is a voluntary scheme where every property owner within a development can sign up and enjoy a share of the development's total rental income.
For example if a ski development consists of a mixture of studio, 1, and 2 bedroom apartments and 3 or 4 bedroom villas there may be demand for different property types at different times. During school holidays and the Christmas period larger properties would be popular with families whereas smaller properties are preferable for singles or couples on a short skiing or hiking break. Occupancy levels would differ dependent on property type and time of year and so the rental pool initiative helps to even out those peaks and troughs ensuring a reliable rental income.
Mark O'Connor, of Bulgarian Focus comments, "The Rental Pool Initiative is designed to be a long term approach to rental income. It encourages those investing in a development to work together for mutual benefit, thereby creating a feeling of community."
The Rental Pool Initiative is exclusively available at the Mountain View development in Borovets. Here 1 bedroom properties start from £28,000 and 70% LTV mortgages are available.
For more information about the Rental Pool Initiative, visit mountainviewborovets.co.uk.