Skiers flock to Bulgaria as snowfall fails in Alpine resorts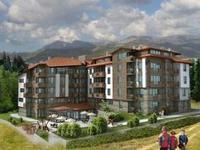 Thousands of skiers and snowboarders are changing their holiday plans and visiting the resorts of Bansko, Borovets and Pamporovo in Bulgaria this season due to poor snowfall in the traditional Alpine resorts.
A few resorts in Austria, France and Switzerland have seen a dusting of snow but it has come late and forced many resorts to remain closed and even cancelled early races of the World Cup. The lack of snowfall has been blamed on the unusually warm autumn experienced by Western Europe and many fear the effects of climate change are now being seen.
In contrast Bulgaria has benefited from its Eastern European location with the cold winds from the north bringing expected snowfall. The popular resorts of Borovets and Pamporovo, located 100km and 200km from the capital Sofia respectively, are open for business with on average 15cm of new snowfall daily. Tourist numbers are expected to reach an all time high this season due to the low snowfall elsewhere in Europe with Bansko expecting between 800,000 and 1 million visitors over the 2006/2007 season.
The high number of tourists in the resorts spells good news for investors with buy to let properties. Increasingly holiday makers are seeking to rent private accommodation as opposed to staying in hotels as it offers more flexibility and freedom. Rental rates can reach €80 per night for a 1 bedroom apartment in Bansko which is a welcomed regular income for the investor. Property prices remain low in Bulgaria compared to the rest of Europe with apartments starting at just £26,000 in Bansko, £33,000 in Borovets and £37,000 in Pamporovo. Leading agents such as Jet2Let are also offering rental return guarantees of up to 5% on some developments for the first 2 years after completion.
Properties available in Bulgaria:
Evergreen, Bansko
Studio, 1 and 2 bedroom apartments located on the Evergreen complex in Bansko. 200m from the main ski lift and with all resort amenities one would expect. Available from just £43,200 / €64,280, visit jet2letproperty.com for more information.
Semiramida Gardens, Borovets
Studio, 1 and 2 bedroom apartments located on a true "ski-in", "ski-out" resort complex in Borovets, just 1 hour from Sofia. Available from just £33,190 / €49,540, visit jet2letproperty.com for more information.
Barco, Pamporovo, Bulgaria
One/two bed apartments 500m from ski lift. Facilities include swimming pool. One bed with garden from £43,759, visit jet2letproperty.com for more information.