Buy student digs and have tenants on tap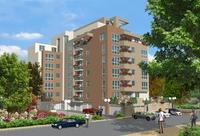 Apartments next to New Bulgarian University, Sofia, from 48,000 euros - perfect for renting to the lucrative and reliable student population.
Most university housing systems would collapse without local privately owned lodgings. According to The Times newspaper, in September 2006 over 120,000 students were looking for accommodation in London and only 33,000 institutionally owned beds were available, leaving almost 90,000 students having to look elsewhere. Whilst campus accommodation is generally guaranteed for the first year to all undergraduates who request it, after this point students tend to have to find a new home off-campus for themselves and their traffic cone collections.
The same conundrum applies to other university towns / cities throughout Europe. It's often not feasible to satisfy demands for student housing on campus thus paving the way for entrepreneurial types who specifically buy in university catchment areas to let to the student population. Students are actually, contrary to popular belief, ideal tenants. Rent collection rates are high (often using parents as guarantors) and there are few fallow periods, unlike with a holiday home, with a seamless stream of prospective tenants.
Looking to Bulgaria, a green area of suburban Sofia, Ovcha Kupel, is the location for the New Bulgarian University (NBU) which opened in 1991 and was accredited by the Open University in the UK in 2004. Annually 12,000 students study at NBU, which has a bias towards Humanities and Arts, however the University has no campus accommodation but instead assists students in finding homes in the private sector.
Within walking distance of NBU is the future answer to their accommodation problems and a landlord's dream with tenants on tap – Slanchev Dom apartments. This off-plan project, scheduled for completion in April 2008, is not only perfectly located for the University, but also for the shops and nightlife of Sofia city centre, the international airport, the Simeonovo cabin lift to Aleko Ski Resort (only 22km from Sofia), the golf course and also to the bold 300,000m² Business Park Sofia.
With views of Vitosha Mountain which acts as an imposing backdrop to the city of Sofia, Slanchev Dom comprises studios, one, two and three bedroom apartments built to the highest European standards. The homes can either be purchased as a basic 'shell' or for an extra 75 euros per square metre be kitted out with quality floor coverings, painted interior walls, mixer taps, light switches, sockets and a full bathroom suite. Every unit is equipped with gas-fired central and water heating and all-important TV and internet connections to keep the students happy. On-site shopping and secure underground parking available at an additional fee completes the picture.
Prices, inclusive of 20% VAT, start from a startlingly low 48,000 euros for a studio apartment. A realistic rent for a new studio apartment in this area would be 200 euros per month. A 2,000 euro deposit reserves a unit at Slanchev Dom and a payment schedule is spread out up until completion in the second quarter of 2008.
For more information, visit dreamhomesww.com.