Pamporovo - The pick of the pistes for ski property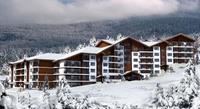 Bulgarian ski resort, Pamporovo, is the happy recipient of the 255 million euro 'Perelik Project' encompassing new pistes, ski lifts, artificial snow equipment, hotels, car parking places, a possible golf course and 100km of new highway connections. 'Perelik', planned for completion late 2007, is predicted to boost tourist arrivals by a mammoth 40% for the next ski season.
Bulgaria – it's in, finally. Having applied for EU membership over 11 years ago in December 1995, the first Bulgarian MEPs were welcomed to the 2007 opening session of European Parliament surrounded by an air of optimism for the road ahead. And why shouldn't Bulgaria feel optimistic? Overseas property buyers are positively falling over each other to snap up off-plan Black Sea booty, Sofia is soaring and the quartet of Bulgarian ski resorts, Bansko, Borovets, Vitosha and Pamporovo are now firmly in the second home spotlight – in particular Pamporovo.
Pamporovo provides an affordable alternative to the Alpine A-listers and is attracting tourists and property investors in their thousands. Despite suffering from a lack of snow, a problem shared by most European ski resorts because of an unusually mild autumn, Pamporovo was fully booked hotel-wise for Christmas and New Year 2006. Demand is outstripping supply in peak season and so buoyant is the property market that experts reported 20% price rises in Pamporovo from January 2006 to January 2007. Encouragingly, alongside the tourists and house hunters comes investment in infrastructure – Pamporovo has been singled out for large scale regional development.
Bulgaria's failed bid for the 2014 Winter Olympics, whether genuine attempt or publicity stunt, certainly attracted a lot of attention and the Bulgarian government has pledged millions of euros in the direction of its ski resorts, not least Pamporovo which is the setting for the 'Perelik Project'. Perelik will connect the same-named peak in Pamporovo with the Mechi Chal peak near Chepelare. Environmental impact assessment has been completed and the world-class project is underway. With a predicted budget of 255 million euros, Perelik will add 29.8 additional kilometres of pistes to Pamporovo's existing 18 and increase hotel bed stock from 4,920 to 8,000. Mechi Chal will see similar growth including 27 kilometres of new pistes and a sports stadium.
Pamporovo, the sunniest and least windy of Bulgaria's ski quartet, intends to emulate the phenomenal success of Bansko, but orientating more to the higher-end and keeping a close eye on sustainability and the environment. The National Electricity Company is investing millions in a power supply upgrade whilst Bulgarian Telecommunications is also making the necessary improvements to ensure a figurative 'surfing' can be enjoyed après ski for those at a loss without the internet, even when on holiday.
The property market within Pamporovo begins from a lower base than counterpart Bansko as housing prices are consistently 20 to 30% lower. Pristine winter skiing conditions, cross-country runs, challenging black runs, a much-praised ski school, bars and restaurants as well as perfect summer activity conditions, all cloaked in fresh mountain air. At a fraction of the cost of the traditional European resorts, Pamporovo boasts a strong property investment case.
What's on the Market?
Forest Nook 3 – a luxurious apartment complex specifically targeted at exclusive clientele expectant of an above-average level of comfort, quality, service and facilities. Only 600 metres from the ski runs, Forest Nook 3 comprises studio, one bedroom and two bedroom apartments with superb mountain views and the peace of mind of 24-hour security. Impressive on-site facilities include an indoor pool, gymnasium, steam bath, sauna, massage service, beauty salon and Jacuzzi plus children's games area, restaurant, shops, ski and snowboard school, internet and business centre and airport transfers on request. Forest Nook 3 is built to European standards with fully fitted kitchens and bathrooms, central heating system, double glazing throughout, cable TV and internet connections and each unit is sold with free maintenance for the first year.
Prices from 40,500 euros for a studio apartment. 2,000 euro reservation, 35% payable on signing and 65% on completion expected for December 2007.
For further information, visit dreamhomesww.com.