Bulgaria's largest ski & spa development powers on!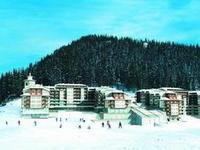 Magnolia in the emerging ski resort of Pamporovo in Bulgaria is selling fast! Having sold all of its phase one apartments in just 25 days, 30% of phase two sold within just two weeks!
Sonny Gowans, CEO of Global Spaces comments: "The sales success at Magnolia clearly demonstrates its huge popularity among investors. The reason for this is down to the quality of the product which is second to none in Bulgaria.
"Furthermore, Bulgaria joined the EU on 1st January this year, investors are anticipating a high return on investment as buyer confidence grows and plans for improved infrastructure increases. An estimated €11 billion will be ploughed into Bulgaria over the next five years to improve roads and general infrastructure.
"Magnolia's success also falls inline with the market pattern in Bulgaria. A year and a half ago buyers could more-or-less purchase anything and capitalise. Now it appears that the higher end of the market will make the best returns, and it is for that reason that Magnolia is performing so well."
This luxury development is truly unique. It offers an array of elements to attract buyers. Detached from the main resort and set amongst pine forest overlooking a dramatic mountain lake with the spectacular Snejanka Peak beyond, the scheme comprises over 420 elegantly designed studio, one and two bedroom apartments.
The scheme also incorporates a 5,000 sqm spa and swimming pool, seven shops, a restaurant, bar, club and medical centre. What's more, residents will have the luxury of being able to ski to the front door as well catch a chair lift just yards from the scheme.
Pamporovo is located high among the Rhodope Mountains in southern Bulgaria and is regarded as the country's most desirable and picturesque ski resort. It is also Europe's sunniest resort, boasting over 120 sunny days during the skiing period alone (December – April) and on average 270 sun filled days per year, making it an attractive all year round destination.
Magnolia offers an intelligent combination of traditional and contemporary design. The scheme cleverly emulates the 16th century architecture of the surrounding area with its traditional clock tower and sympathetic mix of local stone, timber and render, while incorporating the highest standards of modern design and building material.
Magnolia is located high up on the piste, offering stunning views over the surrounding Rhodope Mountains. Its elevated position high up in the mountains gives a feel of luxury and tranquillity.
Apartments will range from 30 sqm to a sizable 98 sqm. Interiors will be smart, contemporary and low maintenance. All apartments come with the same level of specification and nearly all benefit from either a terrace or balcony.
In addition to the extensive on-site facilities, Magnolia is located 10 – 15 minutes from the centre of Pamporovo offering further shops, bars and restaurants.
Bulgaria's historic second city, Plovdiv, lies approximately 85km to the north of Pamporovo, and the capital city Sofia is located 240km north-west. Both cities have international airports, with Sofia being just a three hour direct flight from the UK.
Prices at Magnolia start at £45,945 for a studio apartment. Purchase discounts will be available to multi-unit investors. Expected occupations will take place in the 2007/2008 winter sports season.
To be amongst the first to invest in this spectacular development, visit globalspaces.com.