Bulgarians will dig your student accommodation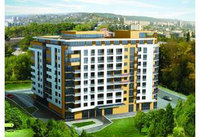 Bulgarian and international students studying at one of the six universities in the campus town of Studenski Grad outside the city centre of Sofia have had little choice as to their accommodation until now. The typical accommodation is very basic; just a single room in a studio apartment with sparse furniture, that two or three students share. If they want better quality accommodation, their best bet is to be based in the city centre although this means a 7.6km trek to the university campus and back again each day.
Studenski Grad (Student's Town) is in great need of higher standard accommodation to cater for the many professionals and international students who live, work and study in the immediate location. Out of the 52,000 students in the whole of Sofia, 30,000 of them study within Studenski Grad. And out of this 30,000, 12% of these are international students who spend 11 times more than the average Bulgarian on their tuition fees. These students with money to spend, along with their lecturers and other educational professionals have voiced a need for modern, western style, rental apartments.
The Belfield development will provide this target group with an attractive solution to the quality accommodation shortage close to their place of work and study. The student population is an untapped rental market for Sofia, but one which makes great economic sense. Bulgaria is recognised worldwide for its output of specialist academic expertise, with the third largest number of qualified IT professionals per capita in the world and the second largest number of certified professionals per 10,000 inhabitants (after USA). Plus Bulgaria also has one of the world's fastest growing economies. The Belfield will offer upcoming generations of students and educational professionals with the standard of accommodation they desire.
Market leading agent Bulgaria Revealed has 20 ready-to-rent, brand new, high quality apartments for potential investors to buy within the Belfield development. Each studio, one or two bedroom apartment comes fully furnished with either a balcony or terrace. Prices start from £34,678 (€51,000) for a studio, £60,910 (€89,578.80) for a one bed and £99,562 (€146,422.30) for a two bed. The average monthly rental rates for either a 6 or 12 month lease work out at approximately €250 for a studio, €400 for a one bed and €650 for a two bed apartment, less the 12% management charge. Up to 70% mortgages are available with completion due end of June 07.
Besides the seven residential floors, the building also has a ground floor and two underground levels which consist of:
- 24hr concierge service
- Secure underground car parking (81 car parking spaces)
- Private storage areas
- Ten shops
- Two offices
- Hairdresser
- Two storey night club (sound-proofed)
- Bar and restaurant
- Health and fitness centre
Tahir Ali, MD of Bulgaria Revealed comments, "The Belfield has been created to meet the demands of the local market. Rental accommodation of this standard is much needed within Sofia's academic centre and I'm sure that workers and foreign students alike will have no hesitation in snapping up one of these beautiful apartments. This development offers investors an as yet untapped supply of ongoing quality tenants with almost guaranteed year-round occupation."
For a chance to be one of the most popular landlords in the city, visit bulgariarevealed.com.