Jazzing it up in Bansko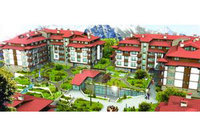 Jazz represents a merging of different people and cultures. The phenomenon spread across America and Europe merging with traditional music creating the basis for blues and ragtime from which jazz evolved. And now, the music genre that originated in the plantation fields of deep southern America, is a form of music celebrated globally. Bansko in Bulgaria is no exception; the town celebrates its culture and people with jazz at the annual International Jazz Festival held at the beginning of August (7th – 15th).
At present Bansko is probably better know as a good value ski destination and for its booming property market with investors pouring into the area, however they will have to get in line this August as the International Jazz Festival in Bansko is one of the biggest and most prestigious musical events in Bulgaria, and is growing in popularity each year.
This of course is good news for the investors as demand for accommodation across the six night event is sure to increase. This year sees the Jubilee celebrations of the festival where thousands of people will fill the streets and town square to see international artists on the large open-air stage. Musicians will also perform in the many night clubs and jam sessions in bars and the streets will not be an uncommon sight!
Tahir Ali, MD of Bulgaria Revealed comments, "Bulgaria lays on a full spread of cultural and musical events throughout the year which see small towns and communities come alive with celebrations. They really are must see events and a treat for those with second properties in the country as they have great accommodation for the festivals!"
"Bansko, nestled in the Rila Mountains, is not only a destination for winter ski and summer outdoor activities, home owners can enjoy events such as the International Jazz Festival, and it is set to be fantastic this year. Only a couple of hours drive from the capital Sofia, Bansko is a great location to visit the cosmopolitan capital as well as taking time out to enjoy festivities with friends and family, I know I will be!"
For more information about purchasing your second home in Bansko, visit bulgariarevealed.com where there is a huge choice of mountain accommodation to choose from. For further information about the International Jazz Festival visit worldeventsguide.com/event.ehtml?o=2910&country=2703&theme.