Bulgaria attracts ethical investors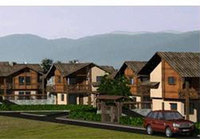 Bulgaria's property market has become synonymous with investment. A growth economy combined with EU accession, high levels of foreign direct investment, increases in tourism and low property prices make it a honey pot for those looking for strong capital growth and regular rental returns. With more and more new build developments (and their associated carbon emissions) springing up on the Black Sea coast, in the mountain resorts and capital city, Sofia, concern is growing that Bulgaria's "green gold", its cultural and natural heritage, is being sacrificed for profitability.
Issues surrounding climate change and global warming can no longer be ignored. A study produced by the World Wildlife Fund in 2006 concluded that the increasing Co2 omissions will eventually deplete our much needed biological resources. In a statement, Hilary Benn, Secretary of State for International Development said, "We have to work with all countries to combat climate change and getting an agreement on a carbon emissions goal is vital."
The carbon emissions produced during construction of residential real estate is of concern to leading investment agents, Obelisk International, with project managers taking great lengths to source investment properties that are lucrative as well as adopting an environmentally friendly approach to the construction and development. Sales Director Kevin Prior comments, "The AECB (The Association for Environment Conscious Building) recently stated that Co2 emissions from buildings represents 50% of the UK's total (excluding airlines); this illustrates the impact that developments such as these can have on an environmental level. We strive to offer projects such as Seven Lakes in Dolna Banya that represent a strong investment opportunity for buyers as well as demonstrating an ethical approach to profits."
In addition to a smaller carbon footprint, environmentally conscious projects are attractive to the rapidly growing eco tourism sector both those seeking to purchase property or rent holiday accommodation. The World Tourism Organisation (UNWTO) describes Bulgaria as one of the most appealing 'new faces' in the tourism industry today, predicting in excess of 20 million tourists annually visiting Bulgaria by 2010. The Bulgarian government recognises the important role that tourism plays accounting for 16% of annual GDP however they are keen to ensure that increased tourism (and subsequent economic growth) is not at the expense of the environment.
Bulgaria was the first eastern European country to develop and implement a National Biological Diversity Conservation Strategy (NBDCS in 1995) which was followed by the National Ecotourism Strategy and Action Plan (NETSAP) in 2002. A Protocol for Cooperation for the field of ecotourism was also signed in 2002 at the first National Forum "Ecotourism, Mountains, and Protected Areas – Partners in Prosperity" with the aim of "providing visitors with opportunities to view and enjoy nature and all accompanying cultural attractions, while at the same time encouraging their preservation and allowing the lowest possible impact." This national strategy has subsequently expanded to regions across Bulgaria with the Rila Ecotourism Association for example being founded to protect the Rila Mountains in which Dolna Banya and the Seven Lakes development is located.
The Seven Rila Lakes, from which the project's name originates, are a group of lakes of glacial origin, situated in the beautiful Rila Mountains of south western Bulgaria, a location which provides a clean, healthy and unpolluted atmosphere. They are the most visited group of lakes in Bulgaria and as with the development, differ in shape and size and are spread over a small area.
Seven Lakes is in fact a carbon neutral development, consisting of seven secure, gated phases developed over 50,000m² of land, with care being taken to ensure that the Alpine-style houses are crafted with local materials which require minimal transportation are sourced including local stone and wood. The developers are also working closely with the market leading CarbonNeutral Company (www.carbonneutral.com) to reduce the Co² omissions. In addition Seven Lakes observes the guidelines set out by the World Wildlife Fund.
The development is well situated for numerous activities including golf on the new Nicklaus Design PGA course in Dolna Banya, skiing and snowboarding in resort of Borovets 15 minutes away, enjoying spa treatments, water sports on Lake Iskar, walking and hiking in the Rila Mountains, hunting, fishing and even making use of the private airfield nearby for flying lessons. Added to this the Seven Lakes development is located within commuter distance of Sofia and its international airport, and as such open to the lucrative executive weekender and second home market created by Sofia's development as base camp for many powerful Multi-National companies.
The Seven Lakes project is being offered to clients at an average of 13% below current market value, so owners benefit from an inherent profit from the moment they buy. If a conservative average capital growth of 15% is assumed over a 5 year period with a 70% mortgage, investors stand to earn a substantial 183% return on investment equating to an average annual rate of 31.26%. Regions such as Borovets offer a year round season and so rental yields of 7.23% are therefore expected for Seven Lakes properties; it is an established ski resort with snowfall from the end of December to mid-April and a popular summer weekend break destination appealing to mountain walkers, climbers and nature enthusiasts.
There are two types of properties available each on a plot of approximately 719m² and set over two levels; a 2 bedroom house built to 139m² and a 3 bedroom house built to 178m². Properties come with a wood burning furnace, fully fitted contemporary kitchen, landscaped gardens and a carport. With the average villa price is €185,207.00 (legal cost (VAT included)* €1,550.00, taxes (2%) €4,794.46, bank charges €200, total investment €191,751.46) it is a small investment to pay for a low impact, carbon neutral property of the future.
For the investor conscious of their carbon footprint looking to invest into environmentally sustainable development without sacrificing on returns then speak to Obelisk International about Seven Lakes development in Dolna Banya and their global investment portfolios. Contact 0808 160 0670 or visit obeliskinternational.com.