Buying in Bulgaria: A complete property buyer's guide to Bulgaria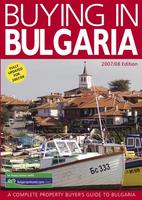 Fully updated and expanded for summer 2007, the second edition of this best-selling Bulgarian property guide will help you find and buy your holiday apartment, investment property or rural retirement home in Bulgaria.
Packed with useful background information on the economy and property market, the 140-page guide also contains expert advice and practical tips on the country's property laws, buying process and an overview of the various types of property available in Bulgaria. There is advice from a Bulgarian property lawyer and suggestions to help you find a reliable Bulgarian developer or estate agent - and the services you should expect from them. There is up-to-date information on mortgages and financing, as well as advice on saving money when exchanging currency to make the purchase.
The practicalities of owning a property and living in Bulgaria are covered in the guide, including how to get around; the cost of living; an overview of Bulgarian taxes; how to connect the utilities, telephone and internet and advice on furnishing and renting your property.
In-depth area guides will help buyers and investors decide on the best place to purchase, with information about tourist attractions, infrastructural developments, local market trends, property prices and the rental market in each area. There is coverage of all the main and emerging coastal and ski resorts; the capital, Sofia; the country's second city, Plovdiv; as well as rural areas like Veliko Tarnovo, Rousse and Elhovo.
'Buyer's Tale' interviews with existing buyers give you a personal insight into finding and buying a Bulgaria property, or what it is like to actually live in the country. Interviews with industry insiders, professionals working in the Bulgarian property industry, provide useful advice and information.
A comprehensive directory of contacts in Bulgaria and the UK is joined this year by a Property Index containing details of over 100 new and off-plan developments in all the most popular areas. The Property Index is designed to help you find the right development in the right area and provides details of the accommodation type, price and contact details.
Buying in Bulgaria 2007/08 is sponsored by BulgarianHomeLoans.com, the UK's leading specialist mortgage broker for Bulgaria. Fully updated for 2007, it includes:
- Fully updated and expanded edition for summer 2007
- In-depth information about the economy, property market and E.U. integration.
- A step-by-step guide to the property buying process and purchase costs.
- Expert legal advice from a Bulgarian property lawyer.
- Up to date information on Bulgarian property regulations and taxes.
- Current information about mortgages and financing.
- 15 'Buyer's Tales' interviews with existing property owners.
- Practical information for Bulgaria property owners, such as where to buy furniture or pay your electricity bill.
- Guides to the most popular areas to buy property, including the Black Sea resorts, the ski centres, Sofia, Plovdiv and inland rural areas.
- Local property price and rental guides for each area.
- New! An index of over 100 currently available new and off-plan properties, with accommodation information, price and developer contact details.
Available to purchase at all good bookshops or online at buyinginguides.info or amazon.co.uk.