Sozopol - Sun, sea, and the best of Bulgarian art & culture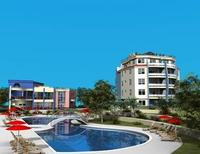 Bulgaria's beautiful Black Sea coastal town of Sozopol is becoming internationally acclaimed for the annual Apollina Festival of Arts which it is hosting this year between the 31st of August and the 9th of September.
Every year without fail the Apollina Festival of Arts draws thousands of national and international artists, musicians, performers and visitors to the stunning Bulgarian coastal town of Sozopol - all are drawn together in this charming and welcoming town to take part in, learn from, benefit from and simply enjoy the cultural and artistic highlights of a rapidly developing, edifying festival that's recently led to Sozopol's festival being dubbed a mini Edinburgh.
Similarities are being drawn between the activities and events of the Sozopol and Edinburgh festivals, and if you take a trip to Bulgaria's beautiful Black Sea coast in September and enjoy a stop off in Sozopol you'll quickly realise why...
The Apollina Festival of Arts sees the very best in new local and international talent being showcased, and regularly throughout the ten day festival period famous names also appear and perform for the delights of the growing number of visitors discovering this once hidden quarter of Bulgaria's stunningly picturesque coastline.
The festival plays host to everything from classical theatre performances to children's street theatre, from chamber concerts to jazz concerts and from traditional dance recitals to ballet, opera, poetry readings, art exhibitions, comedy shows and so very much more - it truly is an event to mark on your calendar each September - and it's also a great excuse to travel to Sozopol and discover so much more about Bulgaria's history and its natural beauty.
Indeed, the town of Sozopol which is a mere thirty minutes drive from Bourgas International Airport has a great deal to be thankful to the Apollina Festival of Arts for.
For example, if it weren't for the growing international recognition of this mini Edinburgh art and cultural type extravaganza, the many and varied delights of Sozopol and its surrounding areas would have remained lesser known – for example, within easy reach of Sozopol is the stunning village of Sinemorets and this village is the gateway to the vast and breathtaking Strandja National Park and Nature Reserve.
Sozopol is also a town of long sandy beaches, hidden coves and secluded inlets and because it's such a great place to enjoy the very best of Bulgarian summertime life, in 2007 the town has already seen over a 10% increase in visitor numbers year on year with Sozopol expecting this increase to be even more boosted thanks to its September festival.
For those who love the thought of living within a bustling community, having access to the delights of the festival and benefiting from the enriching and pleasant atmosphere that always pervades in Sozopol but who perhaps prefer a more tranquil and traditional Bulgaria, why not consider visiting the nearby coastal fishing port of Carevo – this town is famed for its long and untouched beaches and unspoiled traditional charm, and what's more Bulgaria Revealed has just launched a tasteful and amenities packed resort development of apartments and penthouses which are a short walk from the heart of Carevo.
The property development is called Crystal Cove Resort and it is proving to be one of the most popular of the new Black Sea coastal developments for a series of fundamental reasons. For a start the resort has been designed to aesthetically blend with the charm of Carevo whilst embracing the artistic ambience embodied by the nearby town of Sozopol.
Additionally this development is low density and high grade making it ideal for discerning buyers attracted to the cultural delights of Sozopol, the charm of Carevo and the captivating natural beauty of this particularly unspoiled part of Bulgaria.
Residents of the generously proportioned and beautifully finished one and two bedroom apartments and penthouses at Crystal Cove Resort will have on their doorstep the warm waters of the Black Sea, the soft sands of Carevo's long and pristine beaches, the artistic delights of Sozopol and the breathtaking natural beauty and wonder of Strandja National Park.
And if that's not enough to raise your interest consider this – Crystal Cove Resort also offers its discerning residents landscaped gardens, a freshwater swimming pool, a separate children's pool, an expansive and well equipped fitness area, roof terrace, tanning salon, restaurants, bars and even communal barbeque areas, all with a price tag from only £39,900 / €59,400.
Shrewd investors will immediately see the appeal of this particular development...it is easily accessible thanks to an international airport serviced by low cost carriers which is a mere thirty minutes drive away, it is within walking distance of a charming and traditional town, it has direct beach and sea access and superior on site facilities. What's more, Crystal Cove Resort from Bulgaria Revealed is located within an area of Bulgaria annually enjoying significant increases in visitor numbers thanks to the growing international recognition of the Apollina Festival of Arts - so not only will these properties sell like hot cakes off plan, they will likely resell easily, rent effortlessly and they have the potential to command exceptional growth potential and strong rental yields.
For more information, visit bulgariarevealed.com.