Sofia the capital with it all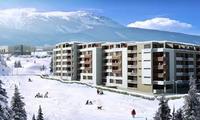 Could any second home destination have it all? Sofia, the capital of Bulgaria, maybe? City teeming with culture – check. Booming investment hotspot – check. Popular ski resort – check. Quality golf courses – check. Serviced by low cost airlines – check. As an investment property destination Sofia has quite some attributes.
With a current population of 1.3 million, Sofia is the administrative, cultural and industrial centre of the country, newly inaugurated into the EU on 1 January 2007, but it gives you a whole lot more, for a whole lot less. According to Mercer Human Resource Consulting's 2007 Cost of Living Survey, Sofia is Europe's least expensive city lounging in 108th place, so that's a good start, but it's not all about the money.
Adam Godwin, Marketing Manager of Dream Homes WorldWide comments, "Sofia covers off so many attributes for fulfilling holidays and a wise investment. Few are aware that there are currently two 18-hole golf courses within 40km of Sofia and a further two under construction, 16 universities with an affluent student population within the city boundaries, Business Park Sofia on target to host 10,000 employees across 400 companies by completion in 2008 and a fully fledged ski resort literally minutes from the city. Add on the fact that Bulgaria registered an economic growth rate of 6.5% and 4 billion euros-worth of foreign investment in 2006 and it's evident that Sofia is an extremely viable property investment proposition."
The Vitosha Mountain which acts as an imposing backdrop to the city of Sofia, is home to the Aleko Ski Resort which is swiftly accessed from Sofia's Simeonovo district by way of a 22km cable car ride lasting less than half an hour. Aleko is the highest ski resort of Bulgaria, has 29km of ski runs and is environmentally protected as the country's first Natural Park. During the winter months the snow begins to cloak the Vitosha Mountain in December and remains stable til late Spring reaching a thickness of 1.5 metres. This impressive 120-day ski season has temperatures dipping down to -6ºC, ideal conditions for slalom and cross-country skiing. After the thaw visitors can enjoy trekking, walking and the clear mountain air plus some terrific slopes for paragliding.
Dream Homes WorldWide is promoting Sofia Ski Resort, a luxurious self-contained residential community including a five star hotel set in the Vitosha Mountains, only 12 minutes from the centre of the capital. Comprising studios, one and two bedroom apartments, each property commands a view of the imposing mountains or the attractive cityscape and the developer has implemented a rental guarantee of 5% for the first two years from completion. This guarantee will comfortably cover any mortgage or equity release interest allowing purchasers to enjoy two years of capital appreciation without any lending costs to worry about.
Facilities at Sofia Ski Resort are numerous ranging from indoor and outdoor swimming pools, children's pool and playground, Spa and sports centre through to a kindergarten, restaurants, coffee shop, pharmacy, shops, bars and nightclubs. Properties themselves boast gas central heating, ski equipment storage, internet and phone connection, cable TV and fitted kitchens and bathrooms. Optional underground parking and furnishing packages. Expected to accommodate expats working in Business Park Sofia, mere minute's away, city residents looking for more space and tranquility as well as holidaymakers, Sofia Ski Resort is a sensible target for investment.
Prices at Sofia Ski Resort start from 40,100 GBP for a studio, 38,200 GBP for a one bedroom and two bedrooms from 87,200 GBP. Several payment options are available with installments payable up until completion scheduled for October 2008 when the two year 5% rental guarantee will commence.
For further information, visit dreamhomesww.com.