First time buyers opt for a far-flung first rung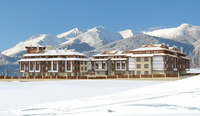 The average house price in the UK according to Land Registry Figures from July to September 2007 is £230,474 GBP, a 9% rise on last year. Turn to Greater London and this figure shoots up to £377,807 GBP, a 14.1% rise on 2006. Hardly surprising then that 84% of the 18 – 24 year olds surveyed by National Savings & Investments this year said they believed buying a property abroad was a more viable option than buying in Britain. And with prices from as little as £30,000 GBP in Bulgaria, this is a very lucrative and accessible property ladder to consider.
Adam Godwin, Marketing Director of Dream Homes WorldWide comments, "Young people in the UK are taking a very pragmatic approach to the property market and many realize that a first time buy abroad could be the key to getting onto the ladder in the UK. Rental income from an overseas asset could fund the monthly rent in the UK whilst the capital appreciation from a few years of ownership in a buoyant emerging market could fund that all important deposit for a first UK home."
Adam continues, "We market a portfolio of property across the world in different price ranges, but it's clear that our low entry level products attract younger investors. Take July Morning Seaside Resort in Kavarna on Bulgaria's Black Sea Coast as an example. Prices here start from just £30,100 GBP for a studio apartment and purchasers only have to put down 20% on signing of contract, £6,020, and then have until September 2009 to save for the next 20% installment and the third and final payments are not due until 2010. Many young people with a decent full time job and an aptitude for saving would be refused a UK mortgage but most would be able to meet these favourable payment criteria."
On the market for young BARBies (Buying Abroad Renting in Britain)…
July Morning Seaside Resort, Kavarna – a luxury low-rise development in a privileged frontline beach plot on Bulgaria's popular Black Sea Coast. The studios, one and two bedroom apartments, and two bedroom duplexes have fabulous views of the sea and all are delivered fully furnished and therefore ready for immediate occupancy. July Morning Seaside Resort has a wide range of facilities including three swimming pools, Spa, fitness centre, on-site driving range, internet café and pool bar. Prices from £30,100 GBP for a studio apartment with 20% due on contract (just £6,020 now), 20% due at roof stage (by September 2009), 50% when construction complete (by January 2010) and 10% on signing deeds (by June 2010). An alternative payment plan is available to include a 3% discount off purchase price.
River Park, Kavarna – a compact development of just 62 units in a coveted spot on Bulgaria's Black Sea Coast. On the banks of a river, within 100 metres of sandy beaches, minutes of PGA-standard 18-hole golf and at the heart of Kavarna's yacht marina, the location for River Park could not be bettered. The studios, one and two bedroom apartments and penthouses with pleasant sea views will be delivered fully furnished for immediate occupancy expected for December 2009. Imaginative facilities include a quirky rooftop putting green for perfecting the short game as well as a large outdoor swimming pool, fitness centre, Spa and a sky bar with wonderful views of the marina. Prices from £37,700 GBP for a studio apartment with 40% due on contract (£15,080), 20% due at foundations, 20% when the roof is ready and 20% on signing deeds (by December 2009). Alternative payment plans are available to include a 5% and 8% discounts off purchase price.
Maria Antoaneta Residence, Bansko – a stylish development of 184 studio, one and two bedroom apartments in the best new ski resort in Eastern Europe. Fully furnished and with open fireplaces as standard, the homes all have views to the impressive Pirin mountains as well as access to a range of on-site facilities. Residents can enjoy an indoor heated swimming pool, gymnasium, Spa with massage room and sauna, bar and restaurant and convenience store. In addition the resort will offer a laundry service, reception, tourist information, ski wardrobes, 24-hour security and underground parking. Prices from £19,600 GBP for a studio apartment with a choice of payment plans including only 20% due on contract (only £3,920 required) and a series of installments up until completion scheduled for December 2009.
For more information email enquiry@dreamhomesww.com or visit dreamhomesww.com.