Due diligence in Bulgaria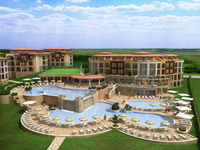 Last month Bulgaria's Directorate for National Construction Supervision (DNCS) announced 193 demolition orders for illegally constructed property across its coastline. Many are food outlets which violate the Bulgarian Black Sea Coastline Act although some fear that residential properties could face the demolition ball particularly if they're found to be in designated green areas formed to protect native wildlife. This raises the importance of due diligence before buying off-plan property in Bulgaria, or indeed any property market across the globe.
Ian Fisher, Managing Director of Dream Homes WorldWide comments, "Mintel research in 2006 showed that 61% of respondents were put off buying abroad for fear of being 'ripped off' and much of that fear has come from a minority of estate agents and developers who have failed to deliver their promises. Tales of unlicensed building litter the news pages and for this reason Dream Homes WorldWide has implemented a strict 'Securinvest' policy. As a company we ensure that all documentation, licenses, bank guarantees and escrow facilities are in place before releasing developments to the buying public. We stand alone in the overseas property market for our comprehensive due diligence and turn down many a lucrative investment opportunity when developers cannot conform to our strict criteria. We are then shocked to see these same opportunities being touted by other agents to unsuspecting customers. Buyers really should keep their eyes open and make sure they're asking all the right questions."
Vantage Heights is one such resort that has earned the Dream Homes WorldWide Securinvest stamp of approval. Located in the attractive town of Albena on Bulgaria's Black Sea coastline, just 20 minutes from Varna International Airport, Vantage Heights is close to 5km of clean fine sandy beach lapped by warm gently shelving water as well as being within striking distance of championship standard golf. Comprising fully furnished studio, one and two bedroom apartments as well as one and two bedroom penthouses, Vantage Height's real appeal lies in its five star facilities which have given the developer the confidence to guarantee a 5% minimum rental income for two years from delivery.
Residents can enjoy a 760m² two-tier swimming pool plus children's pool, a Spa facility with saunas and steam rooms, two al-fresco Jacuzzis, modern gymnasium, tennis courts, restaurant and bar, convenience store, hairdressers, medical centre and the peace of mind of round-the-clock security. Inside the homes are fully equipped to high European standards including everything from bed-linen and crockery to satellite TV, air-conditioning and wireless broadband. A free television and DVD player also come as standard.
Prices start from £30,440 for a studio apartment which would return a minimum of £1,522 each year in rental income and from £49,660 for a one bedroom apartment which would return a minimum of £2,483 each year.
A £1,400 reservation is required followed by a choice of payment plans, some of which can reward a discount of up to 10%. Completion is scheduled for the first quarter of 2010.
For more information, visit dreamhomesww.com.