The best of both worlds in Bulgaria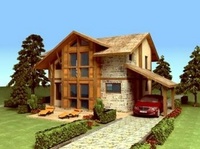 Detached two bedroom villas at Seven Lakes, near the Bulgarian spa town of Dolna Banya, arguably offer investors one of the best locations in Bulgaria: 45 minutes from the capital city of Sofia, and only 15 minutes from Borovets, Bulgaria's most popular ski resort, these golf villas offer strong potential for year-round rentals and mid to long term investment. An ideal payment schedule and readily available mortgage options for overseas buyers are also turning the heads of today's timely investors.
Within easy reach of Sofia and near the ski resort of Borovets, detached villas at Seven Lakes are currently being offered with unrivaled investment credentials, including 70% mortgages and just a 30% down payment until completion.
Additionally, Seven Lakes is a rare opportunity to invest in a luxury development along the boundaries of Jack Nicklaus' first East European PGA standard 18-hole golf course. Such a prime location of course allows residents to enjoy not only Sofia city life, but also golf, skiing, spa treatments and other activities, all within easy reach of home.
The villas come with a spectacular Rila Mountain range backdrop, and sit resplendent with artistic, exposed wooden structural beams and lattice work, both interior and exterior, and stone and wood facades, giving them a distinctly homely appeal. Composed of seven secure phases and developed over 64,000 m2 of land, these detached houses each have their own plots with private gardens – something rarely found in many new Bulgarian projects, where buyers are normally restricted to apartments or townhouses with communal facilities.
As a CarbonNeutral development, Seven Lakes endeavours to reduce CO2 emissions within the resort. The company's mission is to, 'Aim to not only take this stance in the development of the area, but to provide homes which work with the environment and promote healthy living in the long run' – appealing to the growing worldwide demand for eco-friendly development techniques.
The International Property Investment Network (IPIN) is encouraged to see Bulgaria's great progress, particularly since EU accession. Mark Wilson, Product Acquisition Manager explains: 'Buyers at Seven Lakes are looking at a long term investment prospect, with predictions of some 6% p.a rental yields and capital appreciation of a reliable 20% per annum. Year-round rental potential makes this particular investment exceptional, as do the favourable payment terms – all in all an opportunity worth a much closer look.'
All discerning property investors realise the importance of taking advantage of the most lucrative real estate opportunities just as soon as they arise, before they become common knowledge. The International Property Investment Network (IPIN) operated by Propertyshowrooms.com helps all types of investors in their quest to access up-to-the minute information on the very latest investment opportunities in the worldwide property market today.
For more information, visit propertyshowrooms.com