Good things come in small packages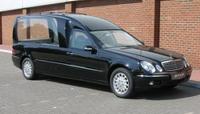 Binz UK has now added a three door, two-seater hearse to its line of Mercedes-Benz based hearse and limousine range. Though designed primarily to meet the requirements of funeral directors in Ireland, where it is more usual for the family to wish to bear, the vehicle has also found favour with some of the smaller UK firms. Despite its lack of bearer seats in the back the new hearse is no poor relation to Binz's existing extended-wheelbase five door hearse.
Present is the same optically-clear curved glass that was such an innovation when introduced on the original Binz E-Class based models. This gives added prominence to floral tributes and casket, which rest on a burr walnut finish deck, softly lit by halogen lighting set into the solid roof above. The casket deck itself has rollers fitted, together with a full complement of brightwork, and includes a set of extra-width coffin stops.
The entire assembly will slide out from the rear of the hearse by up to one metre, to ease the task of shouldering the deceased, and when unloading flowers. Beneath this deck, Binz have managed to include a roomy stowage compartment accessible from both sides for trestles, lowering tapes, a collapsible trolley or even umbrellas.
"This new vehicle combines many design features and our reputation for customer service that have drawn users to our existing Mercedes-Benz based hearse and limousine models, in a more compact package. Though we expect demand to come mainly from Ireland, there are still a number of smaller UK funeral homes who have traditionally favoured a two seat hearse – and who may see in our new vehicle an opportunity to upgrade their fleet with a more contemporary design", says Binz UK sales director Kevin Smith.
Mechanically, the three door hearse is based upon the E-280, and is supplied to Elegance specification complete with air conditioning, Palma grey leather trim and tyre pressure monitoring. As with all Binz vehicles, peace of mind comes in the form of full Mercedes-Benz warranty and franchised dealer service support, backed by extensive off-the-shelf stocks of all unique-to-Binz components maintained at Binz UK's own Reading headquarters.