Goats arrive to take care of Honeycombe Beach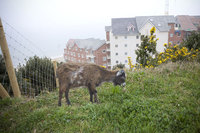 The first goats have arrived at Barratt's Honeycombe Beach development in Boscombe to restore the natural grassland habitat.
The housebuilder has funded the fence enclosure for the goats which have been introduced as part of the grazing management scheme being trialled by the council for six months to help clear the cliffs of invasive shrubbery.
"Barratt is thrilled to assist the council with the funding for the goats and really supports alternative initiatives to maintain the surrounding areas to its developments," said Mark Docherty, Barratt sales director.
Honeycombe Beach is currently offering two bedroom apartments from £284,995 providing an unrivalled lifestyle with its beachfront location, residents' gym, 24 hour concierge, video entry system, secure underground car park and CCTV security.
Located adjacent to Boscombe Pier, Honeycombe Beach offers 169 stunning seafront homes. When complete, the development will complement the ongoing regeneration of the area - which includes improvements to the 1960s-style pier approach and the introduction of an artificial surf reef.
For more details log onto the Barratt website at Barratthomes.co.uk.