Brian and Anne's dream home in the Portuguese sun!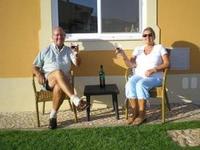 Many visitors to the Algarve won't remember the days before the A22 trans-Algarve motorway transformed the region, making both the west and the east easily accessible from Faro. Then it was the self-styled 'golden triangle', just 20 minutes from the airport, which attracted buyers seeking a dream haven. Everyone wanted to be in Quinta do Lago, Vale do Lobo or other localities around Almancil.
Now, ease of access has given rise to the development of a variety of very desirable resorts and complexes somewhat further afield, in areas which still retain much of the beauty, peace and tranquillity that attracted earlier travellers and home buyers. One such development is Boavista Golf Resort on the Western Algarve and its one that Brian and Anne Armour, from Cheadle Hulme, fell in love with almost immediately!
Like many property purchasers seeking a permanent or a holiday home, they opted for a proven product - a recognisable name synonymous with quality and professionalism and Boavista, developed by Cheshire-based Jones Homes, the residential division of The Emerson Group, is a good example.
Brian takes up the story: "We first visited Portugal 27 years ago and stayed with our children at Luz. Twenty five years later, in September 2004, we returned to stay with friends at Fairviews Village - we had discovered Boavista Golf Resort but little did we realise that this second visit to Portugal would change our lives for ever.
"During our stay the development of the next phase, Lakeview Village, had commenced with the construction of what is now a magnificent swimming pool complex. As our holiday came to an end, before returning to the UK, we decided to reserve a villa 'off plan'. Not always a good idea, it is often argued, but we knew that this place was something special.
"From the friendliness and integrity of the management and all the staff to the five- star quality of the properties and wonderful golf course, this has proved to be one of the best decisions of our lives. We are now the proud owners of a villa overlooking the 17th Green. With the continued sympathetic development of properties and the construction of the brand new Clubhouse, starting to impose itself on the landscape of the beautifully manicured championship Golf Course, Boavista will rightfully take its place as the real jewel of the Algarve," concluded Brian.
The 210-hectare cliff-top site in the western Algarve, between the historic, bustling marina town of Lagos and the attractive seaside resort of Praia da Luz, offers a good mix of properties - from 2-bedroom apartments to 4-bedroom detached villas. Prices reflect the fact that the Resort has no delusions of grandeur - what it promises is a relaxed, comfortable lifestyle in secure, attractive surroundings.
This is a resort where life can, if desired, revolve around the magnificent Howard Swann-designed golf course, its driving range and its academy. A spacious well-appointed clubhouse, now under construction, will provide members with a full range of wining, dining and other relaxation facilities, as well as all the other usual amenities.
The caddy master will have buggy storage at half-basement level, while at ground level a pro shop, offering a comprehensive range of golf equipment, clothing and accessories will be located adjacent to the golf reception. Multi-functional terracing at different levels around the building will allow golfers and guests to enjoy a variety of social activities, without them infringing on each another.
Adjacent, but in a separate building, a luxurious and functional health club will incorporate a heated indoor swimming pool with Jacuzzi, a sauna, a steam room, a
massage facility and a beautician at ground floor level. Upstairs a gymnasium, with a fitness studio for aerobics and cardio-vascular exercise, will overlook the swimming pool.
Ownership at Boavista brings with it a well-structured and flexible, matrix resort membership card, giving access to all in-house facilities and a range of percentage discounts, outlined on application. The 'Premier Card' is top of the range and valid for just about anything and everything available at the Resort.
If golf isn't your thing, don't be deterred. This is an ideal place for family holidays for golfers and non-golfers alike; there's an awful lot to do – both within the development - with tennis courts, football and a children's play area - and outside. Luz beach is within walking distance. Avoid parking problems, leave the car at home and take advantage of the regular local bus service into Lagos for shopping, sight-seeing - or a quiet drink at a water-side café, watching the world go by.
Boavista's proximity to the ocean means there's every possible combination of water-related sports and activities nearby - windsurfing, sailing, deep-sea fishing, diving - and leisurely sails along the coast.
The Resort cares about the people who buy property there, offers an excellent after-sales service and, perhaps most importantly, is being developed in a user-friendly way. Property construction is around halfway complete.
Two 'villages', 'Lakeview' and 'Fairview', comprise apartments and linked town houses, which have one aspect over the golf course and the other over the spacious sun decks of the heated outdoor pools. The adjacent children's pool areas are terraced with non-slip flooring.
At the initial design stage, after long deliberation about how golf and property should integrate, the architects and engineers decided that the luxury villas should occupy the perimeter of the land on elevated sections, with the golf course winding between in an aesthetically pleasing way.
This has been successfully achieved and two rather subtle factors have emerged. The upkeep of the golf course and landscaping come under the watchful eye of head green keeper, Joachim Costa, who has carefully integrated indigenous and formal planting, so that course and properties blend happily together. Also the use of 'earth' tones for villa exteriors means they don't stand out in stark contrast to their background and the result is extremely pleasing to the eye.
As villages and villas come on stream, meticulous care is being taken to keep disruption from ongoing building works to an absolute minimum. For more information about Boavista Golf Resort, visit joneshomesportugal.com.