Titan Properties adds Portugal to Portfolio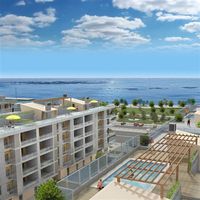 Titan Properties has been ferrying clients between Spain's western Costa de la Luz and the gateway to the Algarve - Faro International Airport - for almost five years now, passing some attractive Portuguese property in the process. Now, having appointed trilingual Ana Araujo, who recently passed the INCI real estate examination (Instituto da Construção e do Imobiliário), the company has made the logical step of adding eastern Algarve property to its portfolio.
Andrew Benitz, Director of Titan Properties, comments, "When we first set up Titan Properties the western Costa de la Luz property market was extremely competitively priced and bounding along at double-digit capital appreciation whilst just across the border Portuguese property was 40 to 50% more expensive and more importantly, the nation was in the throes of recession. It simply did not make sense to market Algarve property to our clients who at the time were valuing investment over lifestyle considerations. As the years have passed our buying public has made quite a significant shift to lifestyle-driven purchases, Portugal has dragged itself out of recession with real GDP growth rising from 1.3% to 1.9% 2006-2007 and it now makes sense to add selected eastern Algarve properties to the Titan Properties' stable. With Ana on-board we've been able to make contacts, undertake the relevant due diligence and negotiate terms and conditions with developers in their native Portuguese tongue and now have a strong selection of property on offer."
Titan Properties has been careful to focus on the stretch of Algarve closest to the Spanish border where it's least developed, competitively priced and most-easily accessed for the team (Faro Airport is just 30 minutes' from Titan Properties' head office in the traditional Spanish town of El Rompido). Additionally the company has also hand-picked those developments that offer either guaranteed rental income or an under-market value price tag thus making most sense to both the investment and lifestyle camps.
Follows a selection from Titan Properties' eastern Algarve portfolio:
Marina Village Ria Formosa, Olhão - An off-plan development of 387 apartments facing the stunning new marina of Olhão, part of the Ria Formosa nature reserve, just ten minutes from Faro Airport. The one, two and three bedroom apartments have eco-friendly stripped wooden floors in the living and bedrooms, spacious balconies with ocean views and a rooftop swimming pool for each block. On-site the five star Real Marina Hotel has a Spa and health club, an abundance of watersports are in reach whilst Olhão town is one of the Algarve's key fishing points famed for its lively outdoor market selling fresh seafood, fruit, honey and vegetables. Prices from 205,000 euros for one bedroom, completion expected 2010. Payment terms 6,000 euros reservation, 30% on contract and the remainder at completion.
Fuseta Ria Resort, Fuseta – A boutique development of just 30 apartments and 20 townhouses overlooking the Ria Formosa nature reserve and within 15 minutes of the ancient architecturally attractive town of Tavira with its 37 churches, Moorish castle and Moorish bridge spanning the River Gilão. The two bedroom apartments and three bedroom townhouses are generously proportioned with fully fitted kitchens, air-conditioning, floor-to-ceiling glazing to take in the sea views and Jacuzzis for the townhouse rooftops. A landscaped communal area with swimming pool and restaurant completes the scene. 30 minutes from Faro Airport. Prices from 193,000 euros for two bedroom apartments and from 327,000 euros for three bedroom townhouses. Payment terms 6,000 euros reservation, 30% on contract and the remainder at completion.
Colinas da Boavista, Tavira – The first phase of this resort set in the valley of the River Gilão comprises 52 one, two and three bedroom apartments as well as just eight three and four bedroom villas. Within five minutes' walk of Tavira city centre and the same by car from golden sandy beaches, Colinas da Boavista is also ideally located for golf with the Jack Nicklaus signature Monte Rei Golf & Country Club, the Sir Henry Cotton designed Golf Benamor and Quinta da Ria all close by. With enormous square metre sizes, even one bedroom apartments are 115m², the properties have fitted Italian-designed kitchens, video entry, electric shutters, underground parking and Jacuzzi baths on the penthouse terrace. Communal facilities include two swimming pools, one for children, a playground and gymnasium. 25 minutes from Faro Airport. Prices from 232,900 euros for one bedroom apartments and from 790,000 euros for three bedroom villas. Payment terms 6,000 euros reservation then 30%-20%-50% for apartments and 20%-20%-20%-10%-30% for villas with completion for the first phase expected for May 2009.
For more information, visit titan-properties.com.