One of the most striking projects in Europe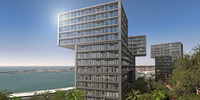 Currently being offered through Unique Living, specialists in high quality homes around the world, is Estoril Sol Residence one of the boldest projects in Europe in a prime location twixt the Atlantic and the lush green of the Cascais. Situated in the Parque Palmela and linked to the Condominium it benefits from a spectacular and tranquil setting with all the amenities of 21st century living. A Closed Condominium there is direct access to the wide promenade where there are also facilities for cyclists.
"This is an iconic building with a particularly high specification", says Serge Cowan, MD at Unique Living, "this most unusual and bold architectural concept is that of the famous designer Goncalo Byrne".
Goncalo had to take into consideration the location of the new building as it was to replace the legendary Hotel Estoril-sol a building of 510 rooms and known for its many famous visitors of yesteryear including Grace Kelley, Fred Astaire, Ray Charles, Bing Crosby and John Wayne.
The new building had to blend with the magnificent green gardens, the changing colours of the sea and the technical difficulties of the cliff face. The result is three interconnecting columns of glass and steel allowing unrestricted views for homes already in situ on the hillside and for those along the promenade. The "open window" approach rather than a concrete block has enabled the natural beauty of the region to remain whilst creating superior apartments which are sophisticated, utterly cool and quite remarkable in their perspective.
The Condo offers owners round the clock security and covered and secure parking plus private access tunnel to the beach and promenade.
Concluded Serge, "These are in a prime location within easy reach of the centre of Lisbon, they are therefore perfect for those seeking accommodation close to the city's business district yet are equally attractive for those who want a stylish beachside location"
Prices start from 953,780,000 euros/£762,253.00 approx to £3,768,770 euros/£3,011,937.00 approx.
For more information visit uniqueliving.com