Quinta do Vale – Perfection for golfers and homeowners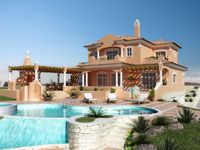 When the bigwigs behind the Algarve's Quinta do Vale sidled up to Severiano Ballesteros asking him if he'd tackle the artistry for the resort's 18-hole golf course, he was only too pleased to be associated with such good company. Joining the ranks of Trent Jones, Palmer, O'Connor and Faldo, all of whom have inspired some fine fairways along this Portuguese coastline, this was to be Ballesteros' first design in mainland Portugal and he envisaged nothing short of perfection for homeowners and golfers alike.
Santiago Verastegui, Severiano's Technical Architect for 14 years and the man responsible for ensuring that his ideas are faithfully replicated on the ground comments, "In many ways Quinta do Vale is a typical Ballesteros work. Opting for the desirable 6-6-6 layout (six par 3s, six par 4s and six par 5s) the course sits nicely in the landscape and is extremely playable for both low and high handicappers. Suitable for competition or friendly play, golfers will certainly use all of their clubs and judgment to negotiate the holes, most of which involve water with two tricky island greens. And as expected from every Ballesteros creation, he's left his mark with an S-shaped bunker etched into the ground - in Quinta do Vale's case alongside the 10th and clearly visible from the Clubhouse terrace."
As for the critique that golf courses are bad for the environment Santiago comments, "A well-designed golf course is actually beneficial to the environment. We diligently replant any trees in the path of remodeling and then add plenty more. Of the 9,000 fig, olive, pine, almond and carob trees on display 3,000 were new additions. The aim when finished is to appear as if man has not touched the land. At Quinta do Vale we have arguably achieved that."
Anyone who's holidayed on the Algarve at the height of summer will agree that havens of peace and tranquility are hard to find. Quinta do Vale's extreme easterly location where the wide River Guadiana is all that lies between it and Spain's Costa de la Luz, offers exactly that to its residents. Intentionally low density the resort is courting the upmarket rather than the mass market and provides three different living options. 66 plots for substantial family villas, 57 detached homes in a Riverside five-star tourist Village and a 125 room five-star Spa hotel for those passing through.
No two villas amongst the 66 will be alike with both Colonial and Mediterranean styles on offer either from Quinta do Vale-commissioned architects or your own choice of expert operating within aesthetic guidelines. Occupying plots of up to 1,700m² in area, each property has three en-suite bedrooms, generous blank-canvas basement areas for perhaps a gymnasium or home cinema, garaging for two cars and landscaped gardens with the obligatory swimming pool – all with golf views. Prices start from 1.2 million euros and various furnishing or golf membership offers are up for negotiation.
Homes at the Riverside Village are available freehold or to rent, all under the care of a soon-to-be-announced hotel brand. Hugging the banks of the Guadiana these ultra contemporary two bedroom properties share a reception, convenience store, restaurant and bar, two tennis courts, lawn bowls and two communal swimming pools (one of which is indoors and heated) although higher priced units have their own. Enjoying a combination of golf, lake and river views this resort-within-a-resort is also closest to the private boarding pier giving access from both the River and the Atlantic bringing Quinta do Vale within cruising distance of the rest of the Algarve. Plans for a marina with 100 berths for boats up to 8m (26ft) are also being processed. Prices at Riverside Village start from 650,000 euros and completion is expected for the end of 2010.
The Spa hotel is envisaged to share the same well-known operator as the Village whilst a substantial Clubhouse with pro-shop, several dining options and a sunny terrace commanding panoramic views completes Quinta do Vale's luxurious image.
For further information, visit titan-algarve.com