Jones Homes geared up for motor sport tourists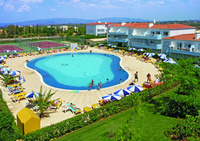 Despite the global economic turmoil, one place continues to defy the doom and gloom as even more tourists and investors are expected to flock to Portugal's Western Algarve following the recent opening of the Autódromo Internacional do Algarve, a brand new state-of-the-art race track near Portimão.
And, according to the annual top 20 survey in the current issue of A Place In The Sun magazine, Portugal is the biggest climber leaping from 12th to 3rd position as the UK's favourite place to buy property around the world.
The Algarve is already renowned for its golf courses, beaches, water sports, culture and good food and wine. With the new venue, the region is expected to welcome a further 1 million tourists a year. In November it hosted the Portuguese round of the Superbike World Championships and Formula 1 testing took place in December. Other major international events are scheduled and there is talk of it trying to lure an F1 race in the future.
As well as the circuit, the complex includes a karting track, technology park, 5-star hotel and sports facilities. At around €195m it is the biggest single investment ever in the Algarve and as well as the creation of over 1,000 new jobs, tourist levels are expected to substantially increase as visitors flock to see the sporting contests, all of which should have a positive impact on the local and national economy.
A member of Alderley Edge-based The Emerson Group, Jones Homes Portugal has two residential and leisure developments just 10 minutes drive away from the Autódromo. Both look set to benefit as buy-to-let investors seek to take advantage of higher expected occupancy rates for rental properties in this area.
The opening last year of a brand new clubhouse with fully equipped gym and luxury health spa has enhanced Boavista Golf Resort's claim to be one of the Algarve's top golf and holiday destinations, bringing new levels of comfort and luxury to owners and guests alike. Located near Lagos, a choice of detached villas and golf village properties start at €365,000 and, under a new freehold quarter share scheme, a 13-week per year rotating occupancy can be purchased from just €112,000.
Jones Homes' other major development on the Western Algarve, Oásis Parque, is located between Alvor and Portimão. With a country club atmosphere, Oásis Parque provides unrivalled facilities for residents and tourists – huge outdoor pool, kiddies' pool and playground, heated indoor pool, Jacuzzi, tennis courts and on-site restaurant. A range of detached villas and apartments start at €205,000.
Prospective purchasers hesitant about buying abroad need have no fears about the reputation of the Cheshire-based residential property developer, which has enjoyed almost 30 years of continuous successful development on the Algarve and almost 50 years here in the UK. Many property purchasers, whether they want a permanent or a holiday home, opt for a proven product, a recognisable name synonymous with quality and professionalism – for them, Jones Homes' developments in Portugal would seem to fit the bill.
For more information about Jones Homes' properties on the Algarve, visit joneshomesportugal.com