Portugal - For golfers, Princes and maybe the Ryder Cup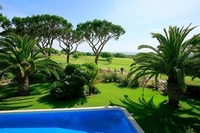 Portugal, in particular The Algarve, has always been a unique "home" for golfers, its world renowned courses and its year round good weather, drawing interest from around the world.
Now Portugal is one of 6 nations announcing their intention to bid to host the prestigious 2018 Ryder Cup. All bidding nations, (the others being France, Germany, Holland, Spain and Sweden), will have hosted a total of 700 tournaments by the end of the season. Portugal will have hosted 59 European Tour, 10 European Challenge Tours and 10 European Senior tours events by the end of this season.
HRH Prince Edward the Earl of Essex, has this month made an official visit to Vilamoura in the Algarve, in the capacity of representing the Duke of Edinburgh charity, and as a result received the keys to an apartment as a donation to the charity from the "Residences" resort a project conceived by the Andre Jordan Development Group and which overlooks the Victoria Golf course where the Duke of Edinburgh Cup Qualifier charity golf event was taking place at the time.
Created in 2001 the Duke of Edinburgh Cup, International Golf for Youth, has so far raised more than 2.5 million euros to help young people from around the world lead better lives. The guest speaker at the event was Sky news presenter Eamonn Holmes.
"Portugal is the place to own a property if you are a golfer", says Serge Cowan, MD, of Unique Living a London based property agency marketing luxury homes in prime locations. "Easy accessibility from the UK with a short flight time of around two hours and a wide choice of carriers, makes the Algarve a natural "home" for golfers. Currently, prices have never been so competitive, so those buying now will own a home that in a few years time will have almost certainly shown a profound increase in its value."
Penina, Western Algarve, Portugal
A spectacular six bedroom, four bathroom villa with the benefit of tennis court and private pool.
This unique villa overlooks the world famous Penina Golf Course. The property has over 5000 sqm of landscaped gardens and is shaded by pine and palm trees. This property is the last word in grandeur.
High ceilings in the reception rooms which are all tastefully decorated. There are four elegant bedrooms. Property includes charming two bedroom guest house.
Few a few minutes drive of the quaint town of Alvor and a little further to Lagos.
1,995,000 euros
Vale do Lobo, Central Algarve.
Three bedroom villa with three bathrooms. The property is fully furnished and benefits from spectacular views of the Ocean Golf Course and the sea beyond. Truly a magnificent location for a keen golfer or for those wanting to enjoy a spectacular location in a handsome and imposing property.
2,200,000 euros.
Lakeside Village, Quinta do Lago, Central Algarve
A four bedroom detached house; part of a new development. With three bedrooms the property benefits from a basement with large room for cinema or gym. Water fountain with fish pond, attractive pool area.
The property is located in a peaceful corner of Lakeside Village on a very large plot incorporating a great deal of adopted land and has fabulous views of the golf course and lake. Within walking distance of the lake and the beach.
Price on application.
For more information, visit uniqueliving.com