Exploring the Ski secrets of Cyprus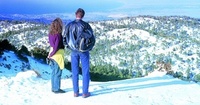 When you think of Cyprus, the image that will probably spring to mind will be of a sun-kissed island destination in the Mediterranean - famous for summer holidays, a beautifully relaxed pace of life, excellent cuisine and welcoming people. This image is of course accurate and it covers many of the reasons why people choose to holiday in Cyprus, invest on the island and even relocate to live in Cyprus. But this image doesn't tell you everything about the destination - because Cyprus is an island for all seasons. Not just a picturesque place in the summer, but an island with an emerging winter sports scene, where you really can ski in the morning for up to four months of the year, and then head to the coast and swim in the sea in the afternoon.
The appeal of Cyprus as a ski destination is gradually growing as the offerings available at the Troodos Village ski area improve, and as word spreads about the charming features of the island's winter sports destination. The appeal is also growing as the annual Federation Internationale de Ski giant slalom and slalom competitions that take place in the Troodos, gain wider recognition and also importance on their annual ski events calendar. In 2009 the competition will take place in early March, and for those who want to practice, the ski season in Cyprus runs from late December to early April.
The ski slopes in Cyprus are located around Troodos Village, also known as the Troodos Skiing Resort, it's situated on a col between Mount Olympus and one of the other peaks of the range. There are hotels in and around the village, some excellent restaurants and generally speaking, the facilities available to skiers are improving. There are a total of four main slopes that appeal to all levels of skier, and it's possible to hire ski and even snowboard equipment onsite, or buy it from a limited number of sports shops in Limassol and Nicosia. The cost of a days ski pass or even an hours private tuition is incredibly cheap by international ski standards, and the affordability of the resort as well as its striking Alpine charm is just another reason to choose the Troodos Village ski resort in Cyprus.
Because Cyprus is such a fascinating island, most people combine skiing in Cyprus with sunbathing, swimming and sightseeing too. In the Troodos Mountains alone there are literally hundreds of sights to witness - from rare flora and fauna to stunning views, from ancient monasteries to the Cedar Valley - and across the whole of the island you really are spoilt for choice when it comes to thinking of things to do!
According to Martin Pearce, Sales Manager at Aristo Developers, leading real estate developers and property experts in Cyprus: "the fact that Cyprus offers its visitors such a wealth of entertainment options all year round means that it is of maximum appeal to those who seek so-called jet-to-let property investments; i.e., overseas investment properties located in destinations where there is strong rental demand for up to 12 months of the year. What's more, Cyprus has a very strong reputation as a favourite choice with those seeking a second home or holiday property. This is quite simply because use and enjoyment of such a property is not limited to a brief summer season period. Therefore, whatever your reasons for buying property abroad, chances are, Cyprus is a destination worthy of your closer inspection."
Whether you're interested in a home from home, a holiday property or indeed an investment property suitable for use all year round, which is as accessible to the beaches of Cyprus as it is to the lofty snow-capped peaks of the Troodos, the Aristo Souni Pine Forest villa community close to Limassol could be ideal for you. The development comprises of sympathetically designed three bedroom villas on spacious individual plots. Each villa has a light and spacious interior, it features a large veranda that leads to a private swimming pool, and all gardens and grounds are landscaped. The villas are a short drive away from the beautiful beaches at Ladies Mile and Kourion, Limassol's bustling and vibrant town centre is just a 10 minute car journey and then within an hour you can be in the heart of the stunning Troodos Mountain range, experiencing all the delights that this lesser-explored part of Cyprus has to offer. Prices for these exceptional properties start from just €289,200 / £229,300 (+ VAT), and for more information visit aristodevelopers.com