Savills celebrates 20 years in Bath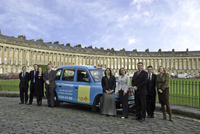 For the staff of Savills there is plenty to celebrate this year as they mark their 20th anniversary in the beautiful historical town with a party held at The Posnett Gallery, Kingswood School 12th February 2008.
The special occasion will mark the achievements and success of the business over the last 20 years with faces from past and present celebrating with the current Savills team.
The office was first opened back in 1988 by Mark Syrett. Compared to housing prices back in the 80s, Bath has seen a significant rise in house prices over the years selling some of the most expensive houses in residential property in the area.
Head of Office Andrew Cronan joined the Bath office back in 1995 as an assistant, promoted to Associate in 1997 then Associate Director and finally as Head of The Bath Residential Department in 2000 and Director in 2007. Specialising in the prime Country and Town markets Andrew has lead the Bath residential team to being the leading agent in the area.
Andrew Cronan comments: As property people we could not be working in a better market than Bath and the surrounding countryside. I am delighted Savills has become part of Bath over the past 20 years enabling us to be the leading agent in the City.
Bath offers a combination of beautiful Georgian architecture, stunning scenery, and superb restaurants making it an idyllic choice for any homebuyer. The town is not only well-known for its beautiful spas and swamped in history, but in a recent survey conducted by The Guardian in May of last year, the University of Bath "boasts impressive student satisfaction results," earning a place in the Top Ten Universities Poll in the newspapers' league table.
Today the Bath residential department has a wide portfolio of properties on its books with prices ranging from £400,000 to £10 million+. In 2007 the office had an impressive year with the Bath residential team selling over 100 properties, 40 of which were over £1 million.
It's not all work and no play for the Savills team. Savills takes pride in being part of the community by getting involved in local charity sponsorships and events, such as sponsoring the local junior hockey team, Bath Buccaneers, as well as the Bath Literary Festival and the Spring Music Festival.
This year, Savills staff, Emma Hiscox, David Mackenzie and Luke Brady will be taking part in the Bath Half Marathon on Sunday 16th March and hope to raise funds Penny Brohn Cancer Care, Dorothy House and Children with Leukemia.
Savills has witnessed the highs and lows of the property market over the past 20 years and has provided an unbeatable service in understanding their client's needs. Savills Bath is endeavoured to continue it's success in the area and look forward another milestone anniversary in years to come.
For more information visit Savills.com.