Auto Windscreens Apprentice named as best in the glass industry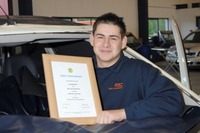 Auto Windscreens has been recognised for having the UK's top apprentice in the entire glass industry in 2008.
Daniel Metcalfe (18), who is an apprentice in Auto Windscreens' Technical Department, part of the Automotive Glazing Development Centre, was nominated for the prestigious Glass Training Board award by the company's Qualifications Manager.
Dan, who didn't know he'd been entered for the Glass Training Board Apprentice of the Year Award, said: "It was a complete surprise when I found out that I had won as I didn't even know that I'd been nominated."
Awarded by Glass Training Limited, the industry training organisation for the glass and related sector, the Apprentice of the Year Award is open to all those working in the glass and glazing industry.
Dan joined the Auto Windscreens' apprentice programme on leaving school two years ago. The award recognises his exemplary contribution to a number of key tasks for the company's Technical Department, including his work on the company's groundbreaking Wet Weather Canopy Van. He was instrumental in the evaluation and development of the van's canopy and has trained nearly 200 of the company's technicians in the use of it.
Additionally, Dan also plays a key part in evaluating the quality and consistency of the urethane used in the installation of windscreens and other glass in vehicles. These and other tasks he carries out as part of his apprenticeship show the training he has been given by his Mentor, David Bagnall and his Manager Chris Bonsall has been nationally recognised by the award.
Dan added: "I have made real progress in the automotive glazing industry and developed not only my technical abilities but also my people skills. It's a really interesting and varied job. I enjoy getting out and working on lots of different types of vehicles."
Auto Windscreens Managing Director Abu-Haris Shafi said: "We are very proud of Dan's achievement. He is the future of the automotive glazing industry and I am delighted that he has chosen Auto Windscreens as the launch pad for what I am sure will be a very successful career.
"His professionalism, commitment to quality and enthusiasm in his work is a direct reflection of Auto Windscreens' world class Training and Development department."