Park Home offers the perfect lifestyle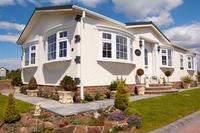 Mike and Pauline Crompton are not only firm fans of the park home but experts on the subject. Before moving to the Dream Lodge Group's Lakeland View development on the West Cumbrian coast, they lived for ten years at a park outside Kidderminster in the West Midlands. They enjoyed the lifestyle so much that, when the time came to choose their retirement home, only a park property would do.
The Crompton's wanted to move to a park that was open throughout the year, in a quieter, less crowded, part of the country. They undertook extensive research, considering parks in the East Midlands, Nottinghamshire and Yorkshire before coming across Lakeland View while surfing the internet. They decided it met their requirements exactly, and, despite seeing the site when construction was still at an early stage, were soon the owners of a two bedroom home on a prime corner plot.
Exclusively for the over 50s, Lakeland View is aptly named: just minutes from the Lake District National Park, it does, indeed, boast stunning views, both of the neighbouring fells and across the Solway Firth to the Isle of Man. With picturesque villages, quiet beaches and England's highest mountains, the area is ideal for those who enjoy beautiful scenery and the outdoor life. There are plenty of opportunities for walking, riding, golf, windsurfing, and both sea and freshwater angling. Cyclists, too, are well served, with a network of local tracks and several long distance cycling routes, such as the C2C Cycleway, passing through the area.
Though rural, Lakeland View is far from isolated, being just two and a half miles from the historic town of Egremont, where there are shops, a doctor's surgery, a pharmacy, a supermarket and a post office, and within a short drive of the harbour town of Whitehaven.
The park homes at Lakeland View are single-storey, with two or three bedrooms, an en-suite to the master bedroom, a guest bathroom, and open-plan living and dining areas. All come ready to move into with furniture, floorcoverings, curtains and a range of integrated kitchen appliances (fridge, freezer, cooker, hob, and washing machine with drying cycle) all included.
Purchasers have the opportunity to personalise the interior and exterior of their lodge, and can even have the layout adapted to their requirements. Mr and Mrs Crompton took advantage of this service. As their home was originally designed, the master bedroom had an en-suite bathroom and a walk-in wardrobe, but the second bedroom had only a standard built-in wardrobe. The Crompton's asked for the space allocated to the master bedroom en-suite to be used instead to create a walk-in wardrobe for the second bedroom.
Every home is made to the highest standards by leading manufacturer Omar, with a steel chassis, a timber frame, a tough, weatherproof coating and excellent insulation. A choice of exterior finish is available. As part of their research, Mr and Mrs Crompton visited Omar's factory in Suffolk and showroom in Milton Keynes, where they were able to see several already constructed units and satisfy themselves as to the quality of the home they were buying.
To give residents complete peace of mind and keep the development looking its best, Lakeland View has a resident warden, who monitors security and arranges the maintenance of communal areas and gardens.
The Crompton's moved to Lakeland View in October 2006, and, says Mr Crompton, are very happy with their choice. Asked what draws them to the park lifestyle, he explains, "We've moved around quite a bit, and find that the spirit of neighbourliness you get in a park is far superior to that found in most residential areas. We enjoy the programme of activities arranged by the residents' association, which includes a variety of functions, shopping trips to places like York, and even a gardening competition."
The icing on the cake, he says, is Lakeland View's location. "Having travelled all over the world, we now want to discover Britain. We can spend a day at one of the lesser-known lakes, which tourists don't tend to visit, or take the train from St Bees to Barrow-in-Furness – a spectacular trip, with glorious scenery. And when we want to go further a field – we recently spent three weeks in Scotland – we're secure in the knowledge that our home is being well taken care of."
Residential Park Homes at Lakeland View are available from £94,000. For further information, visit dreamlodgegroup.co.uk.