Garmin ecoRoute helps motorists save money and environment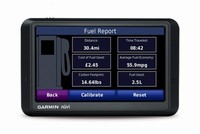 Garmin the global leader in satellite navigation announces ecoRoute - a free software update that helps drivers save money and fuel, easing growing pressures on personal budgets and the environment.
The downloadable software will add new features to Garmin personal navigation devices (PND's) and will provide additional capabilities including detailed fuel and mileage expense reports, CO2 emissions, economical routing with cost of journeys, and tips on how to improve driving to become more environmental friendly.
"Many of the biggest challenges currently facing people across Europe involve the economy and the environment," said Clive Taylor, Director of Product and Marketing.
"Using ecoRoute on your Garmin nüvi helps you to be a smarter driver at a time when everyone is trying to make their salaries and fuel tanks go the extra mile. As the global leader in satellite navigation, we embrace the opportunity to be the leader in fuel-efficient, eco-friendly navigation."
With ecoRoute the fuel cost of a journey is displayed before it begins. This really brings home to the user how much a journey costs and aids them in the decision to either use the car or to take public transport. It's also a great reminder to kids that 'Mum or Dad's Taxi' isn't free...
In addition to "faster time" and "shorter distance" for route preference, ecoRoute lets nüvi users choose "less fuel" to provide the best route to save fuel and money. Through ecoRoute's fuel report, mileage report and fuel-saving tips, drivers can focus on their fuel conservation even when they're not behind the wheel.
Fuel report tracks fuel usage over time, and mileage report monitors mileage and fuel usage on a per-trip basis and can be downloaded to a spreadsheet for detailed mileage and expense reporting. Drivers also have the ability to customize their nüvi to fit their vehicle by accessing the "vehicle profile" under ecoRoute in the tools menu. There, you can enter your car's fuel economy and the current price of fuel to help nüvi better calculate your savings.
To find out if your nüvi is compatible with ecoRoute go to garmin.com/ecoroute. The software application is currently being optimised for Europe and will be available in February to download.
The new ecoRoute software is the latest breakthrough from Garmin, which this year celebrates its 20th anniversary of leading the technology and innovation field. Garmin is a household name globally in the automotive, aviation, marine, outdoor and fitness industries.
To learn more about ecoRoute and Garmin's other products and services, visit garmin.co.uk