Santa Pod Raceway and Turbo Dynamics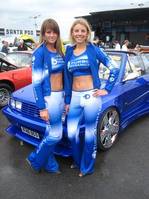 Situated in Wellingborough, Northants Santa Pod Raceway is a popular destination for motorsport fans and attracts people of all ages to its central location in England. Known to be the home of European Drag Racing, Santa Pod is suitably sponsored by one of the world's leading turbocharger companies, Turbo Dynamics.
The renowned company, also known as TD, has sponsored the raceway since January 2008 and has a presence at a number of the events with staff and TD girls. As well as designing bespoke hybrid turbos for drag, race and rally applications, the company also supply standard turbos for all car makes and service, upgrade and modify turbos.
TD's customers include record breakers Keith Cowie and Mick Begley who went head-to-head, driving their TD-turbocharged cars, in a drag shootout in September 2008.
Now, following Santa Pod's release of the 2009 events calendar, TD has confirmed which events the company will have a presence at this year: the JapShow in June and Ultimate Street Car in August.
Santa Pod 2009 Calendar
In-keeping with previous years, Santa Pod is offering something for everyone in 2009, mixing classics, modified metal, bikes, music, fireworks and of course racing! Lots and lots of racing!!! Basically, if you enjoy a great day out, there's bound to be something there you'll love. Best of all, in these credit crunching times, any children under the age of 16 get into most major Santa Pod events for free so taking the clan needn't mean breaking the bank!
Show highlights include February's Stunt Night, where the cream of European automotive performers and artists wow the crowds. March sees the hugely popular Marangoni Fast Show and Gti Spring Festival, for those who like their cars loud, proud and quick! April's Easter Thunderball showcases the finest in European Drag Racing and the Big Bang Camper and Bus Show is for those who prefer their VWs old - and comfy!
Fans of Yank tin will love the Wheels USA show in May and there's more stunt based japery abounds for the May Bank Holiday. In fact, May's a busy month at the 'Pod, as the host venue for the FIA European Drag Racing Championships. If you want to see just how fast cars and bikes can really cover the quarter mile, get a ticket, quick!
June sees the Summer Nationals where quarter mile fans can get their fix and also hosts the JapShow and UK Truck Show, both being a cracking family weekend away. Santa Pod Raceway sponsor, Turbo Dynamics (TD) has announced that it will have a presence at June's JapShow this year with TD Girls, dressed in the infamous blue and write crop top and trouser sets. The girls will be handing out TD goodie bags and available for photos during the event.
While July sees the legendary Bug Jam event, August boasts Ultimate Street Car (USC). Turbo Dynamics will again have a presence at this massive event, which last year boasted a 30,000 turnout; only 1,000 below the Raceway's capacity! USC is known to be the 'Fastest, hottest, largest and loudest modified car festival in Europe' – one not to be missed.
September hosts classic VWs once again for VW Action and drag fans will love September's National Finals. Jap fans who didn't get enough in June can visit the JapShow Finale on 4th October. Finally, the year ends in a bang with the eyeful that is Flame and Thunder at the end of October and the Fireworks Frenzy on Bonfire Night.
Of course, in between these massive events lie a plethora of 'Run What You Brung' and 'Drift What You Brung' days where petrol-heads can thrash the living daylights out of their own car in total safety, without falling foul of the law. In addition, there are literally dozens of marque-specific and club based events throughout the year to ensure that no matter what your church, there's a Santa Pod event to suit.
With its central location, warm welcome and superb facilities, make sure you get to the Pod at least once in 2009. With the most eclectic mix of events in the UK scene, it's hard not to find something you love! See you there!
To see the full line up please visit: santapod.co.uk/calendar.php