Redrow laces up to raise cash for children's hospice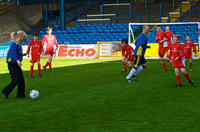 In a perfect match a South Wales housebuilder and football club have teamed up to raise £2,000 for children's hospice T? Hafan.
Local firms, including award winning Redrow Homes, took to the hallowed Ninian Park turf to battle it out for the coveted 'Bluebird Community 6's trophy,' raising vital funds for the children's charity.
Taking place as part of Cardiff City FC's 'In the Community Week', Redrow entered two adult staff teams and two sides made up of their children. Two of the teams reached the final stages, but the real result was the money raised.
Debby Pavitt, sales director for Redrow Homes (South Wales), said: "We're proud to have sponsored the event to raise money for T? Hafan hospice and delighted to once again link up with Wales' number one football club.
"It brought a fantastic opportunity for local companies to get together for a good cause, have fun and keep fit at the same time."
The money raised by Redrow Homes will help T? Hafan, the Children's Hospice in Wales, at Sully, to continue their invaluable support to children, young people and their families by offering specialist palliative care, which includes respite, alongside friendship and a sense of community.
T? Hafan, costs more than £2.5 million to operate every year but is free to all the families who use its services.
This latest donation continues the long-standing partnership between Redrow and the charity. Support began in 1994, five years before the hospice actually opened and over the last 14 years the award-winning homebuilder has raised an amazing total of £137,000 for the hospice.
T? Hafan was purpose built and opened in January 1999 to provide help and support for the 300 plus families, living within Wales, where one or more of the children suffer from a life-limiting illness.
"The on going support T? Hafan receives from Redrow Homes is truly magnificent," said chief executive, Ray Hurcombe. "We have had a long association with the company going back over many years and their fundraising is integral to the work at the hospice."
The relationship with Cardiff City is also on-going. After the last ball has been kicked at Ninian Park, Redrow will be redeveloping the stadium into a £4 million high quality new homes venture. Cardiff City are moving to a new stadium at Leckwith.
Subject to planning permission, Redrow's development will include one and two-bedroom apartments and two, three and four-bedroom homes, with 30 per cent of the properties allocated for affordable housing.
The development forms part of a much wider redevelopment of the area around Ninian Park, which will include new sports, leisure and community facilities.
Based at Cardiff Gate Business Park, Redrow Homes (South Wales) is part of award winning Redrow plc, which builds at approximately 100 locations across Wales, England and Scotland. For further details of Redrow, including its work in the community visit redrow.co.uk.
For more information about T? Hafan and how you can help make a difference, visit tyhafan.org.