Heavy snow forecast for Hemel Hempstead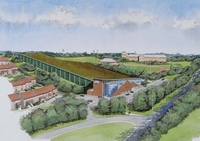 Approximately 500 mm of the white stuff are predicted in what will be the biggest downfalls in Hemel Hempstead for many years. Experts are expecting tons of perfect, powdery snow to fall over the slopes and remain on the ground - indefinitely.
Despite the unseasonal chill, no traffic problems are anticipated and the conditions will be ideal if you're keen to perfect your parallel turns or snowboarding technique.
Work has started on building what will be Britain's premier indoor ski centre with snow covered slopes providing top skiing conditions. The graded slopes will be topped up regularly by snow machines and serviced by Hertfordshire's only "piste basher" to keep them in peak condition for skiers.
The £23 million venture will transform the original ski-mat slopes at Hemel Hempstead's Hemel Ski Centre into a state-of-the-art indoor Snowcentre ideal for novices, experienced skiers and snowboarders alike.
With a 160 metre slope plus a nursery training slope of almost 100 metres, the new centre will offer superb facilities providing London and the South East with the region's premier venue for a real skiing experience.
Serviced by two drag lifts and two rope tows on the trainer slope, the ski runs will be graded to meet the requirements of skiers and snowboarders at all levels of ability. Experienced and highly qualified instructors will provide expert tuition in a relaxed atmosphere, making a visit to The Snow Centre a great day out for families, parties or for pre-holiday ski practice.
A key retail partner is Snow and Rock who will have a large shop within the Snow Centre so anyone interested in buying winter sports gear can try the equipment on real snow.
With the temperature maintained at just below freezing, visitors will get a real feel of fresh mountain air while large video screens showing winter sports activities will add to the Alpine atmosphere.
And there will be plenty of Apres Ski too at the main restaurant overlooking the slopes with panoramic views, plus bars, coffee shops and meeting rooms making The Snow Centre the ideal venue for team-building conferences and parties.
The venture is the brainchild of David Surrey, director of the Hemel Ski Centre which was started by his father in 1978.
Mr Surrey, who persuaded a consortium of local business people involved in the UK leisure industry to support the project, said: ''We see indoor slopes as the future for skiing and snowboarding in Britain and our aim is to create a superb facility that will allow people to enjoy the sport all year round."
Qualified ski instructor and technical management expert Stephen Jordan is part of the team running the venture. He says 'Our Centre of Excellence will enable everyone from beginner to expert to enjoy their chosen snow sport. We are deploying state of the art snow making equipment for the perfect Alpine surface
The project, also backed by NatWest bank has taken two years to plan in consultation with builders Sir Robert McAlpine Ltd, and the meticulous design will feature one of Britain's biggest living roofs covering the entire length of the slope, making it visually unobtrusive and environmentally friendly.
The work which will involve re-grading the natural landscape to build purpose-built slopes is expected to take a year and the new Snow Centre will open in April 2009.
For more information visit Thesnowcentre.com.