New gondola lift for Slovakia's Jasna ski resort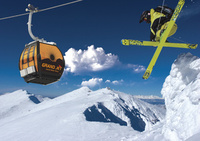 A new 2km long gondola lift, one of the world's largest ski construction projects this year, is underway in Slovakia's largest ski resort of Jasna and is due to open in time for the start of the 2009/10 ski season.

Construction on the new 13 million euro, eight passenger Grand Brhliska gondola began in May. It will rise from close to the Grand Hotel Jasna, 320 vertical metres from 1100m to 1420m and has a capacity of 2,400 skiers per hour, double that of the older four passenger lift it replaces. Grand Brhliska gondola will also be 328m longer than the old lift.

As part of the construction project the ski slope Nr 10 Vrbicka (350m) is being lengthened to 2,3km long and will have full snow making to cover this slope at the bottom station of the cableway.

To accommodate the new gondola the access road to the nearby hotels will be diverted under the ski slope through a new tunnel and the resorts Biela Pú? and Otupné will be linked by the lower parts of the ski slopes Biela Pú? and Vrbická.

There will also be a completely new 700m long ski slope in the Otupné sector, which will be located to the east of the ski run Vrbická. The new run will provide a bypass to a steep part of the Vrbická piste.

For information, jasna.sk .