'Worn Again' Virgin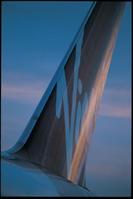 Virgin Atlantic is working with footwear and accessories company Worn Again on an innovative new project which will see the airline recycling aircraft seat covers to create desirable new fashion accessories. The collaboration has contributed to Worn Again developing a range of unique bags by recycling disused materials such as car seat belts, bicycle tyres and aircraft seat covers.
The Worn Again Virgin range, which includes the 'Ollie' wash bag, the 'Sherman' male messenger bag, 'Lydia' and 'Romero' ladies handbags are available to buy from 1 September 2008. The bags include an 'Ingredients' label which lists the all the materials that make up the bags – such as Virgin Atlantic seat covers, car safety belts, Glastonbury tents and bicycle tyres.
Worn Again Virgin bags will be available at Terra Plana stores around the world and on the Worn Again website (wornagain.co.uk). The bags will also be available in John Lewis stores as well as stores in Romania, Israel and The Philippines.
Lysette Gauna, Creative Director for Virgin Atlantic, commented:
"Virgin Atlantic is committed to taking practical steps to make its business as sustainable as possible. From investing in new technologies, to lobbying the aircraft manufacturers, through to championing new ideas - we believe that actions speak louder than words. This is a fun and creative way to recycle our waste and we are sure these fabulous limited edition bags will be very popular as well as giving people the chance to own a little piece of Virgin Atlantic history."
Cyndi Rhoades, Director, Worn Again, commented:
"We're pleased to be partnering with such a pioneering global brand as Virgin Atlantic at a time when environmental issues are at the top of corporate agendas. For us, it is a great opportunity to offer a design-led and innovative solution to waste, with the end product being the ultimate 'eco it bag'."
Waste reduction is a big focus for Virgin Atlantic. The airline has successfully reduced the waste it produces in its offices and ground operations significantly and continues to work hard to reduce the waste its produces in the air. The airline has set itself a very ambitious target to reduce the waste it sends to landfill from its aircraft by 50% by 2012.
A total of 2000 limited edition bags has been produced with materials from approximately 1000 seats. The materials were donated by Virgin Atlantic to Worn Again following the refit of its economy cabin.
For further information, log on to Virginatlantic.com.