Virgin Atlantic displays Ryder Cup at Heathrow Clubhouse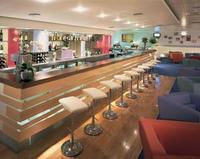 Virgin Atlantic, the official airline of the European Ryder Cup Team, is once again proud to be displaying the Ryder Cup in the Virgin Atlantic Clubhouse at Heathrow. The Ryder Cup was displayed in the lounge four years ago prior to the 2004 Ryder Cup and Virgin's Upper Class passengers were very excited to be able to see this rare and historic piece of sporting history on display.
Captain Nick Faldo and his team will fly on a special Virgin Atlantic flight direct from London Heathrow to Louisville International Airport on 15 September 2008. The European team will fly onboard a Virgin Atlantic Airbus A340-600 to ensure that they arrive in best possible shape to contest the 2008 Ryder Cup at Valhalla Golf Club, Louisville, Kentucky, USA from 19 to 21 September 2008.
Richard Branson, President of Virgin Atlantic Airways, said:
"Virgin Atlantic is really excited to have the Ryder Cup on display again in the Clubhouse at Heathrow. This is the second time that Virgin Atlantic has been chosen to carry the team, with the Ryder Cup and everyone at the airline wishes Nick Faldo and his colleagues the best of luck for the competition. I am sure they can do Europe proud and win again."
The Team will enjoy Virgin Atlantic's award-winning Upper Class Suite, which includes the longest fully-flat bed in business class, and in-flight entertainment facilities. The team will also speed through the airline's new Upper Class Wing at Heathrow's Terminal 3, with its private security channel, before being pampered in the Virgin Atlantic Clubhouse. Before take-off, the players can enjoy a massage or haircut in the Cowshed Salon, or play pool and enjoy the Deli bar.
Richard Hills, European Ryder Cup Director, said:
"We are delighted that one of the world's biggest brands is again part of one of the world's biggest sporting events. Virgin Atlantic's excellent service will be a huge benefit to the European Team and Official Party which is sure to help make the 2008 Ryder Cup another great success."
For more information, log on to Virginatlantic.com.