Virgin Atlantic reduces upper class check in time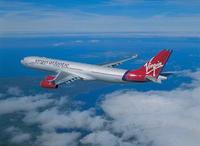 Following the success of the airline's Upper Class Wing and private security channel at Heathrow Terminal 3, Virgin Atlantic has introduced a new 40-minute minimum check in time for its Upper Class passengers offering them the fastest journey through an airport in the UK – quicker than T5. This means Virgin Atlantic's Upper Class passengers can now arrive at the airport and check in 40 minutes before the flight departs, pass through the airline's private security corridor and go straight to the gate in time for their flight.
Steve Ridgway, Chief Executive for Virgin Atlantic, commented:
"The introduction of this new check in time at Heathrow allows our Upper Class passengers to spend even less time at the airport – offering them flexibility in their travel plans whether they are heading off on a business trip or just running late after a busy day in the office. From arriving at the airport and checking in – passengers can be relaxing in their Upper Class Suite as their long haul flight departs within 40 minutes!
"This fastly superior experience has been made possible by the introduction of our award winning Upper Class Wing, which was launched in November last year and allows passengers to get from check in and through security within minutes."
Virgin Atlantic's Upper Class Wing was voted 'World's Fastest Airport Check In' at the Wallpaper Awards 2008. The Upper Class Wing is like no other business or first-class check-in. Upper Class passengers, who have already supplied check-in details to their driver, are taken in their limos up a curved ramp onto an arrival area.
After being welcomed by a Virgin Atlantic host, check-in formalities are completed before passengers walk through lobby area and into the dedicated security channel. From there, they are moments away from the haven of the Virgin Atlantic Clubhouse, recently voted the world's best business class lounge by Skytrax. Upper Class passengers and making their own way to the airport can check-in at the Upper Class Check-In, in Zone A of the main terminal, before taking a priority lift straight to the dedicated security channel.
To make the airport experience even more seamless for its passengers Virgin Atlantic has launched virginatlantic-t3.com - a brand new interactive T3 microsite which offers comprehensive information, virtual tours and check in demos for all passengers who are travelling in and out of its facilities at Heathrow.
When entering the microsite passengers click on the class they are travelling in and are then guided through their airport journey to include details on transport to the airport, checking in options and information on the shops and restaurants at Terminal 3. There is also a 3D tour of Virgin Atlantic's Upper Class Wing facility as well as a virtual tour of the award-winning Clubhouse, showcasing the many different amenities it has to offer including the Cowshed Spa, Cocktail bar, Bumble & bumble, Deli and Brasserie and Sky Lounge.
The Virgin Atlantic T3 microsite also includes passenger interviews, customer satisfaction results and awards as well as information about the design of the new T3. The microsite was produced by 'Saint', with support from Virgin Atlantic's in-house Marketing and Service Design teams. Virgin Atlantic currently operates 160 flights a week from Heathrow to a range of long-haul destinations worldwide.