Virgin gives six reasons why it opposes BA AA alliance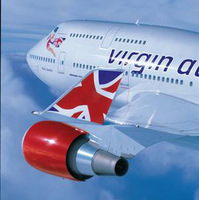 Virgin Atlantic has sent a letter for publication to BA's in-house newsletter, BA News, after its Chief Executive posed six questions to Virgin Atlantic's Sir Richard Branson about the planned alliance between BA and AA. Virgin Atlantic is publishing the answers in full from Sir Richard so that BA staff and the public can see what Virgin feels are the true facts and the damage that such a monster monopoly between BA and AA could do.
1. Why is it fair for Lufthansa and Air France/KLM to have anti-trust immunity (ATI) with their US alliance partners but not British Airways?
Virgin: The truth is that the Star and SkyTeam alliances, from their own hubs, cannot match the capacity to the US that BA already has from Heathrow, even before any tie-up with AA. In July, from Heathrow to the US, BA flew 11% more Available Seat Kilometres (ASKs) than Star from Frankfurt and 14% more than SkyTeam from Paris Charles De Gaulle. BA/AA immunity would increase their ASKs at Heathrow sharply. Crucially, BA is already bigger than Star and SkyTeam at Heathrow. Anyway, it's not a question of what's fair for an airline but what's fair for consumers.
2. What is there to stop Virgin Atlantic seeking an alliance partner and applying for ATI itself?
Virgin: Virgin Atlantic may wish to enter into an alliance and may one day seek anti-trust immunity where such an alliance and immunity would lead to consumer benefit. We are not saying that all alliances are bad and no doubt the regulators would scrutinise such an alliance in the same way as we are asking them to scrutinise BA/AA. But any Virgin Atlantic alliance would be a world away from seeking anti-trust immunity with the biggest airline in the world, AA. It doesn't matter what we do as we could never replicate the scale of BA/AA's dominance at Heathrow which would reduce competition on transatlantic, European and domestic routes.
3. If BA and American Airlines used their alliance to put up fares and reduce service levels, as Virgin alleges, surely this would give Virgin a huge competitive opportunity?
Virgin: The stranglehold that BA/AA would have over travel agents and corporate customers, let alone over nearly half of all slots at Heathrow, would be used in an attempt to destroy its competitors. Any ability to respond would also be restricted due to the power of BA/AA's dominant shorthaul network which can channel passengers onto its own transatlantic flights, therefore diverting feed passengers away from other carriers.
4. If BA/AA is approved, there will still be seven EU or US airlines flying to America from Heathrow - and nothing to stop others starting. This is far more than from any other European airport. Why is it uncompetitive?
Virgin: The seven EU and US airlines flying to the US from Heathrow offer limited services to only a few destinations. A price tag of £30m for decent slot pairs is a huge barrier to any airline looking to start a profitable service at the airport. There are actually only two new competitors that have entered routes where BA and AA overlap. In one case, this has been negated by a withdrawal and in the other it is simply one daily flight to LA. On all routes between Heathrow and the US, the removal of AA as a result of BA/AA immunity would severely reduce consumer choice.
5. BA/AA's market share on transatlantic routes from Heathrow (51%) is much smaller than Lufthansa/Star alliance from Frankfurt (80%) or the Air France/SkyTeam alliance from Paris (73%) Why would the competition authorities regard BA/AA's position as unfair?
Virgin: Heathrow is absolutely at the heart of this debate as nearly a quarter of all passengers between the EU and the US go through Heathrow, more than travel from Frankfurt or Charles de Gaulle. Misleadingly, BA has been using data which hides the 6 million passengers who book direct or transfer onto transatlantic flights. This allows BA to claim a smaller share of passengers than the more accurate onboard picture shows. Transfer passengers are a vital part of an airline's route profitability. As for direct bookings, under what logic would you leave out all those passengers who book direct through BA and AA's call centres! Or websites! Or at airport ticket desks!
6. Why does Virgin have a 'monster monopoly' on fast train services between London and Manchester - and why does it want to create another one running Gatwick Airport?
Virgin: Virgin Trains competes against BA, bmi, some other train operators and millions of vehicles between London and Manchester, so it certainly doesn't have a monopoly. In fact, BA had an almost dominant share of business travellers until Virgin introduced new trains and now BA's monopoly is dwindling fast. Transatlantic passengers are more limited in their choice as they can't drive or take a train, or even swim, and will be more limited if BA/AA immunity was granted. At Gatwick, Virgin Atlantic wouldn't have a monopoly as it doesn't want to own the airport outright but hold a small stake with partners, in order to improve the quality of customer service, something which BA should be interested in too.
For more information, log on to Virginatlantic.com.