Virgin Atlantic - James Bond's favourite airline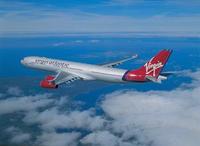 Virgin Atlantic, one of the world's leading long-haul airlines, has unveiled its campaign to promote its partnership with Quantum of Solace, the James Bond adventure in cinemas in the UK from 31st October.
In the film, James Bond, played by Daniel Craig, flies Upper Class across the Atlantic. It's the second time that Virgin Atlantic has appeared in a Bond movie, after its successful partnership with Casino Royale, which became the most successful in the James Bond franchise.
Virgin Atlantic will be promoting its partnership via Upper Class and Economy service advertising in print, poster sites (outdoor), online and through incentives with the travel trade. The airline will also be showing behind-the-scenes footage on its in-flight entertainment system onboard each flight.
The economy advertising promotes Virgin Atlantic's latest fares with the theme "You Only Live Once," highlighting the fact that, if we're going to fly abroad, there's only one airline to choose. The Upper Class advertising focuses on the airline's "Fastly Superior" check-in and security channel for business passengers at Heathrow Terminal 3's new Upper Class Wing.
Paul Dickinson, Sales and Marketing Director for Virgin Atlantic, said:
"As you only live once, Virgin Atlantic is the airline to fly with. Being James Bond's favourite airline means we have to live up to his desire to travel in style. Our new campaign will highlight our great range of fares and superior product offering compared to other airlines. We're delighted to be part of Quantum of Solace."
Daniel Craig reprises his role as Ian Fleming's James Bond 007 in Quantum of Solace, the Metro-Goldwyn-Mayer Pictures/Columbia Pictures release of EON Productions' 22nd adventure in the longest-running film franchise in motion picture history. The film is directed by Marc Forster. The screenplay is by Paul Haggis and Neal Purvis & Robert Wade. Michael G. Wilson and Barbara Broccoli produce.