Virgin Atlantic celebrates 10 years of flying to the Caribbean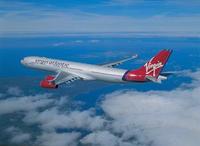 Virgin Atlantic, one of the world's leading long-haul airlines, this month celebrates its 10th anniversary of flying to the Caribbean. To celebrate this milestone anniversary Virgin Atlantic is sponsoring a 10 day music Festival in Barbados from 30 October which will include 10 bands from the UK playing in various venues on the island for 10 nights.
Virgin Atlantic began operating services to the Caribbean in September 1998 with direct flights to Barbados, St Lucia and Antigua from London Gatwick. Since then, the airline launched weekly services to Grenada and Tobago in 2003, and a twice weekly service to Havana, Cuba in 2005. In 2006, the airline then launched direct services between Gatwick and Montego Bay, Jamaica and services to Kingston, Jamaica were added in October 2007.
Flights to the Caribbean proved so popular that a weekly service from Manchester to Barbados was added in November 2005 and direct services to St Lucia from Manchester were added in November 2006.
Virgin Atlantic is the largest non-stop scheduled carrier between the UK and the Caribbean, operating 117% more capacity than British Airways to the region.
Steve Ridgway, Chief Executive of Virgin Atlantic said:
"Since we started flying to the Caribbean in 1998, we have carried over four million British holidaymakers who love the combined appeal of the beautiful beaches and year-round sunshine the Caribbean has to offer. The Caribbean is an important market for us and we are now the biggest operator to the region having added more Caribbean destinations, flying from Gatwick and Manchester to eight destinations on seven islands.
Julia Hendry, Marketing Director, Caribbean Tourism Organisation said:
"Caribbean tourism has always been dependant on its airline partners and the visitors they bring in from all parts of the UK to experience the region's diversity and many attractions. As such, we are delighted at the volume of holidaymakers and the regular and high quality service that they have been able to enjoy thanks to Virgin Atlantic over the past decade."
"As one of the world's most tourism dependant regions, we're grateful that Virgin Atlantic has been able to offer a wide range of schedule services. I would also like to take this opportunity on behalf of the Caribbean Tourism Organisation, to thank Virgin Atlantic for its support over the years, not only for its service to the region but in assisting us to raise the profile of the Caribbean we look forward to continuing this relationship for many years to come."
Since it was founded in 1984, Virgin Atlantic has become Britain's second largest carrier serving the world's major cities. Based at London's Gatwick and Heathrow airports and Manchester airport, it operates long haul services to 30 destinations worldwide as far apart as Las Vegas and Shanghai. Virgin Atlantic has a fleet of 38 aircraft, which includes thirteen 747-400s and six A340-300s and nineteen A340-600s.
For more information and bookings, log on to Virginatlantic.com.