San Lucianu, Corsica – A chic new look for summer 2007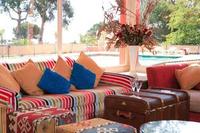 Mark Warner's small friendly family resort of San Lucianu in Corsica has been transformed for the summer '07 season with a fantastic £500,000 refurbishment. Situated on the stunning east coast of the island, the hotel boasts a fantastic new boutique look mixed with a Moroccan style using natural woods and local stone mixed with opulent colours.

The heart of the hotel has had a significant lift with a complete revamp of the reception, restaurant, hotel and beach bars. The restaurant terrace has been extended and re-decked allowing for spacious al fresco dining with new Mediterranean style furniture. The beach and hotel bars have been transformed to create a relaxing atmosphere enabling guests to enjoy the balmy summer evenings. The relaxed boutique feel has also been carried through to the bedrooms with new soft furnishings and accessories in rich shades providing the finishing touches.

San Lucianu has always proved popular as the perfect holiday destination for families. It is only a two hour flight form Gatwick and with Corsica's temperate climate it is perfect for kids. The award winning childcare provides a multitude of activities in the gardens and on the beach all supervised by the qualified team of Nannies.

For adults and children alike the waterfront provides perfect sailing and windsurfing conditions for all abilities with tuition from professional instructors for beginners or those needing a refresher course. There are three tennis courts with tuition available for all ages and with the beautiful gardens guests can find space and tranquility to completely relax. You can do as little or as much as you want to.

To find out more visit Markwarner.co.uk.