Used exotic cars are rising in value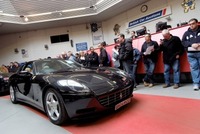 Demand for prestige cars is rising according to the latest data from BCA. June sales nationwide saw strong bidding across a range of performance cars and exotica, suggesting buyers are happy to invest in these high-end, high-value machines.
Professional buyers have been attending BCA's programme of Top Car sales in large numbers and bidding has been exceptionally competitive - even for cars approaching six-figure values. As a result, values for many cars in the prestige and performance sector have risen sharply against CAP Clean.
In recent weeks BCA has sold a 2007 Bentley Continental GT 6.0 Convertible for £92,500 – a staggering £12,600 (or 15%) above CAP Clean, while a Bentley Continental Coupe sold for £79,000, more than £7,000 (10%) above CAP.
A 2007 Aston Martin DB9 V12 Coupe sold for £72,500 at 9,000 miles, achieving £6,000 or 11% above CAP, while a 07-registered Aston Martin V8 Vantage sold for £50,400 at 4,000 miles, a substantial £7,000 or 16% over CAP values. A 2005 Aston Martin DB9 V12 at 20,000 miles sold for £49,400, equivalent to 110% of CAP.
A 2007 Maserati Quattroporte V8 Executive GT saloon sold for £41,000 at 23,000 miles and a 2008 Audi RS6 V10 Quattro Estate sold for £57,200 at 12,000 miles – with both achieving nearly £4,000 above CAP.
Competition between buyers has seen strong values for BMW with a 2008 M5 Saloon at 10,000 miles selling for £49,000 (117% CAP), and a 2007 BMW M3 4.0 V8 DCT Convertible at 7,000 miles realising £47,800 (115% CAP).
Other strong sellers in recent weeks included a 2003 Ferrari 575M Maranello sold for £47,500 and a Ferrari 360 Modena from the same year that realised £56,400, while a 2008-registered Lamborghini Gallardo Coupe sold for £85,500, and a 2007 Gallardo Spyder Roadster sold for £87,000.
Simon Henstock, BCA's UK Operations Director commented "Last year values for sporting and performance models came under pressure, and it was widely believed the reduction in City bonuses affected demand earlier in 2009, ironically just as other used car sectors were recovering. Interest has been building all year, however, and values have improved notably in recent weeks."
He added "Even with a more receptive marketplace, successfully remarketing for luxury and prestige cars calls for a different approach than you would take with 'bread and butter' fleet or lease cars. The key to remarketing high-value product is exposure in the appropriate media to reach the right audience of buyers, combined with a dedicated marketing campaign to get the message across."
BCA holds Top Car sales throughout its nationwide network. Log on to bca-europe.com and visit the UK site to see full details and catalogues of forthcoming sales featuring prestige and performance vehicles.