Avis London gets on its (electric) bike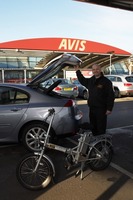 Committed to reducing its carbon footprint in London, Avis now uses a fleet of electric bikes for its deliveries and collections around the city. The bikes are provided and operated by Avis' supplier Vehicle Enhancement Services (VES).
VES had previously worked with Avis for just over three years, before tendering to become the service provider for vehicle preparation, delivery and collection, and site transfer. As part of its tender, VES proposed that Avis became the first rental company to substitute petrol-driven bikes with electric-powered vehicles in London, to minimise pollution.
VES invested in buying additional batteries and charging equipment to minimise downtime and ensure optimum use of the electric bikes. As with the existing 2-stroke petrol Hopper Bikes on the VES fleet, used for delivery and collection around London, the new electric versions are easily collapsible for stowage in the boot of a car. They are equally robust and reliable.
The electric bikes are ideal for use within the M25 radius, with an optimum range of 20 miles before requiring recharging. Currently 40% of Avis' London deliveries, operating out of Park Royal, Euston, Mayfair, Earls Court, Waterloo, Tower Bridge, London City Airport and Croydon, are fulfilled using the electric bikes and this is set to increase next year.
Steve Davidson, City Manager, London, Avis says: "When VES suggested the service we were all for it, as we are committed to reducing pollution and improving our carbon footprint wherever possible throughout the company. The electric bikes have been even more reliable than anticipated and the service is working extremely well."
Avis has been working with The CarbonNeutral® Company for the last eight years and was the first European car rental company to become carbon neutral, offsetting 94,500 tonnes of CO2 since 2000. Avis customers can offset their car rental emissions online at www.avis.co.uk for just £1 – last year 23% more customers chose to do so.
Earlier this year Avis added 20 Prius vehicles to its UK fleet, following in the footsteps of Avis Germany's introduction of natural gas VW Tourans. In 2005 Avis Portugal reduced its CO2 emissions by over 50 tonnes, thanks in part to the introduction of 50 hybrids. Scandinavia also offers its customers the option of renting one of over 400 ethanol-powered vehicles.